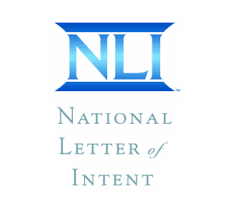 What is the National Letter of Intent?
The National Letter of Intent is a document that indicates a student athlete's commitment to participating National Collegiate Athletic Association (NCAA) colleges and universities in the United States.  It is a legally binding contract that may only be signed by prospective student-athletes who will be entering a four-year institution for the first time in the academic year after they sign the NLI. Recruits who have signed NLIs must attend the schools they have signed with in order to receive financial aid. Over 48,000 student-athletes sign the NLI each year, and over $33 billion is distributed among these devoted athletes.
Student-Athletes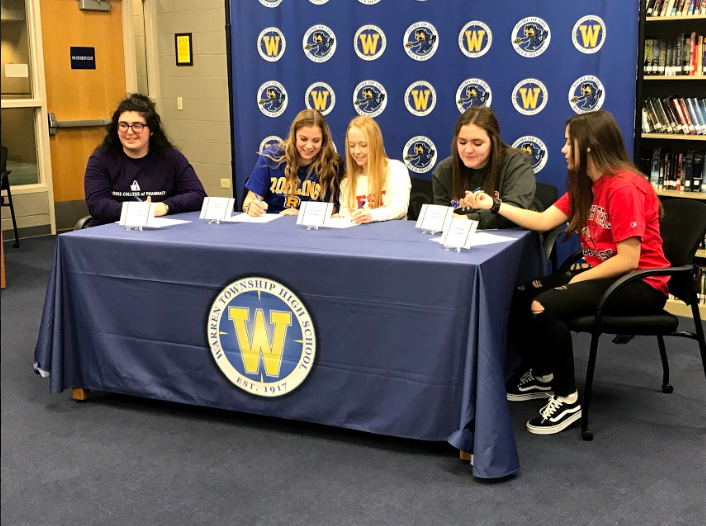 Zachary Pelland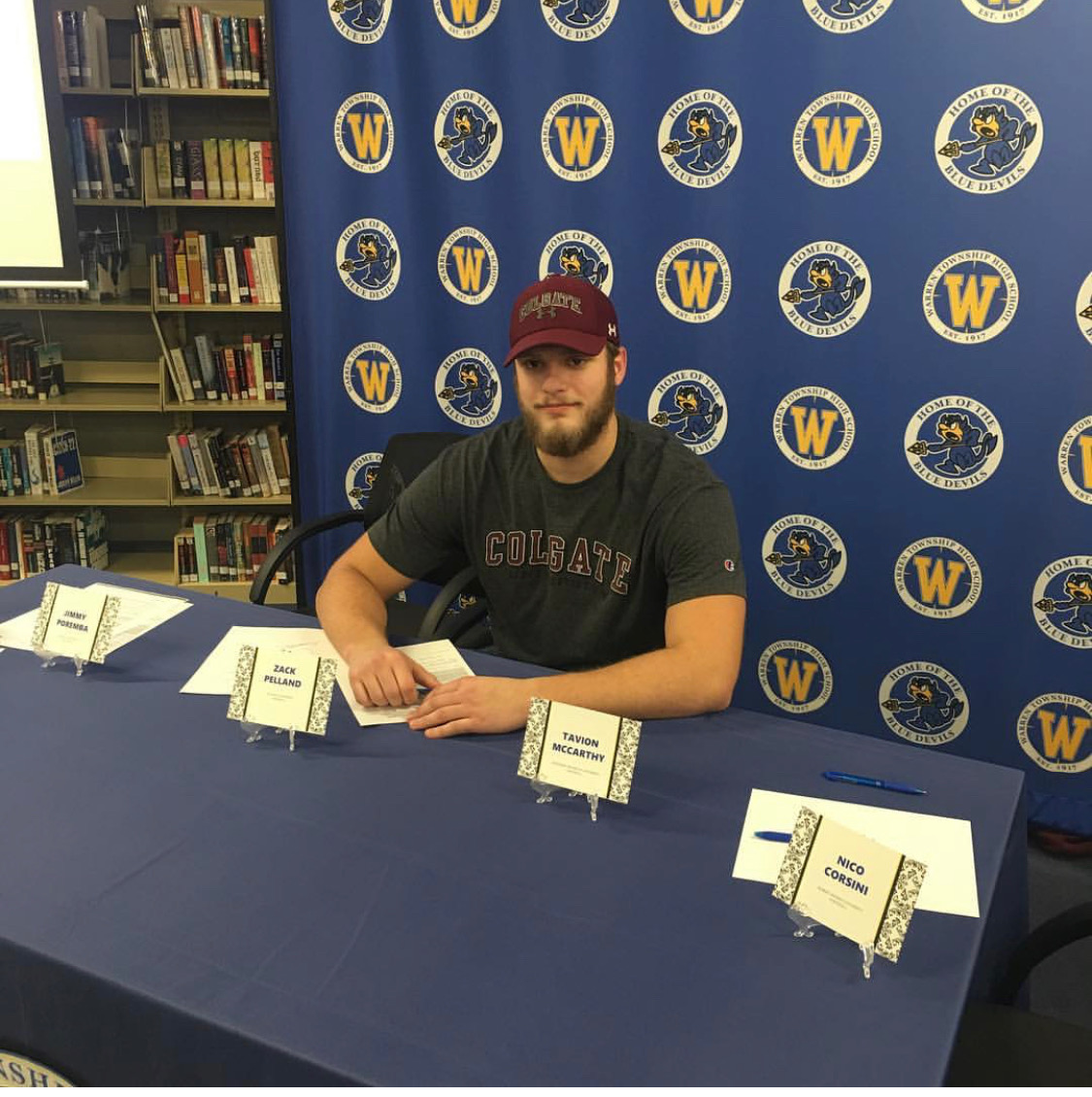 Zack is an extremely hard worker and a leader on defense. From his dedication, he was first team All-Conference. Through his relentless hard work in the weight room, he turned himself into a Division 1 football player. Zack also excels in the classroom, with a 4.6 GPA and a 33 ACT. He will not only be missed as an athlete but also as a leader. Zachary signed the national letter of intent because it was a requirement in order to receive a scholarship and enroll into college. He really loves Colgate, so he wanted to secure his spot there. He chose Colgate University because it offers the best combination of athletics and academics for what he wants to do. It's recognized as a prestigious university as well as competitive in their division (D1 FCS), regularly winning their conference and making it to the playoffs. Currently, he is interested in studying Pre-Medicine and going to med school for either research or orthopedic surgery, but his interests and plans may change in the future. He has been playing football for four years, and he wants to continue to play in college because of the strong relationships that he created with teammates and coaches. Playing in college also will give him the opportunity to graduate debt free and pursue further education.
Abigail Triebe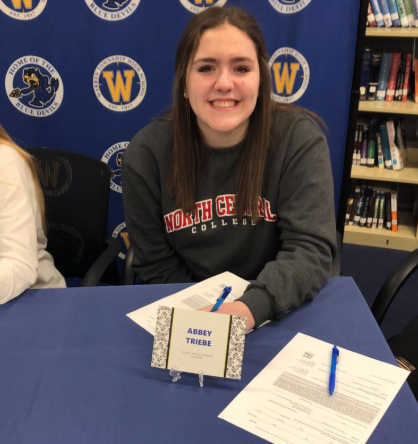 Abbey is a dedicated and hardworking athlete. She is a 3-year varsity player and was voted captain her freshmen and
sophomore years. During this time, she has been awarded the IHSA Scholastic Achievement Award and All-Academic Award. Abbey is also a reliable player, teammate, and friend, which earned her the "Blue Devil Award" by her coaches. Her reason for signing the national letter of intent was the fact that it was a once in a lifetime thing. She knew she wasn't going D1, the highest level of intercollegiate athletics, but a lot of people said it was a fun thing to experience, and she wanted to be able to look back and remember this day. Abigail has committed to North Central because it is close to home. She knows she doesn't want to go too far, and it also had a beautiful campus with a charming town right down the street. They also have an excellent lacrosse program there that stood out to her; she felt that the people there were so nice and welcoming. She started playing lacrosse freshmen year because it was hockey's, the other sport she is a part of, off-season, so she wanted to do something else. She and her friends all joined, and she instantly fell in love with it. She wants to continue to play the sport she loves at a higher level while learning more about it. Her goals and aspirations for the future are to just have fun and strive to be the best athlete she can while continuing with her education.
Nico Corsini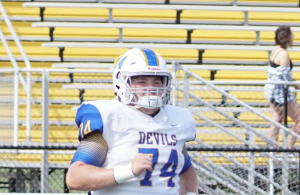 The reason Nico signed The National Letter of Intent was because he is excited to go to Robert Morris University and continue his academic and athletic career. He chose Robert Morris University because it made him feel the most at home, and he can stay close to his family. He has been playing football since he was in 2nd grade and the reason he wants to continue it is that it has given him the opportunity to go to college. It is his passion to play football. His aspirations for the future are to either become a gym teacher or teach special needs kids while working as a football coach. After 5 games, Nico suffered a season-ending injury his junior year. He spent countless hours in
the weight room and rehabbing. Nico came back proudly this season in great shape and ready to go. He was the emotional leader on offense, and he was named first-team All-Conference this season.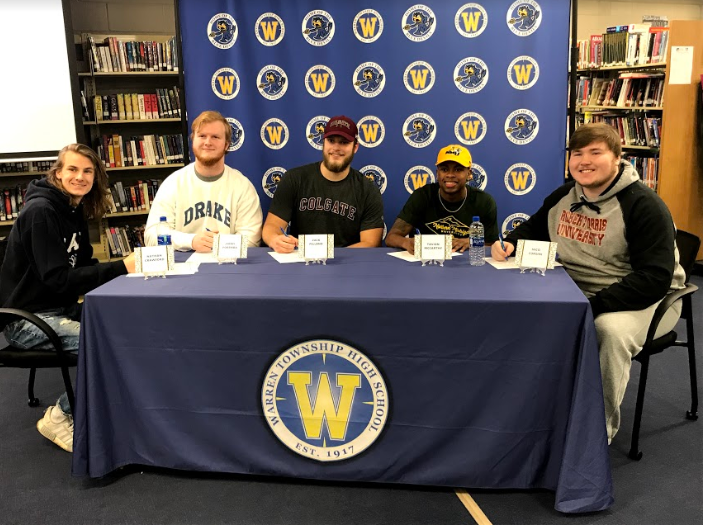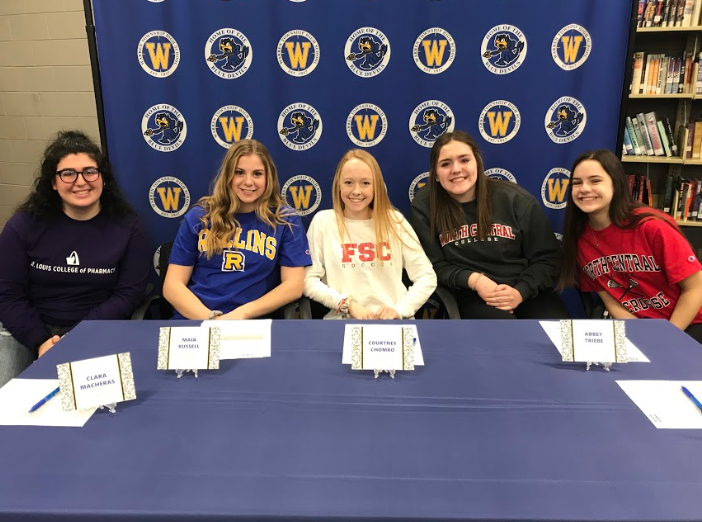 Clara Macheras
Clara (pictured far left) has been a member of the track and field team for four years. Through the years, Clara has made great strides as an athlete. She has the 4th best throw in the shot put in school history with a toss of 38 feet
5 ½ inches and the 8th best discus throw of 110 feet 2 inches. Not only is Clara a great thrower, but she is also a great teammate. She will take the time to help other girls on the team to correct their technique and help them perform better. Her motive for signing the National Letter of Intent was that she has been throwing for such a long time, and she could not see herself not throwing in college.  She loves the school that she is attending, St. Louis College of Pharmacy, so signing to throw at this university was a very easy decision for her. She decided to commit to St Louis College of Pharmacy because her intended career plan is to become a pharmacist, and the college is ranked very highly in this field. Also, when she was on campus it just felt like home, and she believes the coaching staff is absolutely incredible. Clara has been throwing shot put and discus since sixth grade. She decided to continue throwing in college because she enjoys throwing so much that she wasn't quite ready to give it up just yet. Her aspirations for the future is to throw at STLCOP for the next four years and hopefully make it to the NAIA national championships. After throwing, she wants to graduate as a pharmacist and work for the FDA.
Nathan Crawford
Nathan (pictured far left) is a 3-year varsity starter for the Blue Devils, and he was an All-Conference selection his
junior season. He does have a chance to break the school all-time scoring record this season; he is very competitive, passionate, and full of heart. Nathan was motivated to sign the National Letter of Intent because he wanted to commit to St. Ambrose University. He wanted to be done with the college search as it is very stressful. He chose to pick this university because it felt like a good fit and he liked the team coaches location. The scholarships also helped shape his decision. Nathan has been playing lacrosse since about 4th grade and he wants to continue to play through college because it's something that he has always loved and it is a way for him to escape from stress. His goals for the future are to graduate college in 4 years and play lacrosse all 4 years of college.
Tavion McCarthy
Tavion (pictured second to the right) will be attending Northern Michigan University. He was a football player for the Blue Devils. At corner, he was one of the best cover corners that Coach McNulty has ever coached. By week 3, other teams figured out they shouldn't throw it his way. Tavion was also a huge factor in the team's offensive success and also the starting kick returner. Tavion is a team leader and was named first-team All-Conference and Academic All-State
Jimmy Poremba
Jimmy (pictured second to the left) will be attending Drake University. Jimmy was a powerful football player for the Blue Devils and a physical leader of the offensive line. He is quiet but extremely tough! This season Jimmy had 51 pancake blocks and led the way for one of the top running backs in the state. Jimmy was named Honorable Mention AllConference and Academic All-State.
Tanya Czosek
Tanya (pictured far right) will be attending North Central College. Tanya is a committed, enthusiastic, and reliable lacrosse player and teammate. She was voted Captain by her peers in the 2016 and 2017 seasons. She earned Most Improved Player in 2016, Most Valuable Player in 2017. She also was NSC AllAcademic and IHSA Scholastic Achievement Award winner in 2018. Tanya shows great dedication on and off the field.
Courtney Chomko
Courtney (pictured in the center) will be attending Florida Southern. Courtney is an extremely dedicated soccer player; she is a 4-year varsity letter winner. 2018 was a major year for her. She was the team MVP, All-Conference, and Academic All-Conference. She also made the Glenbrook Cup All-Tournament Team, and IHSA Scholastic Achievement Award winner.
Maia Russel
Maia Russell (pictured second to the left) will be attending Rollins College. Maia has been a member of the Warren Varsity Swimming and Diving team for all 4 years of high school. She has been a team leader and an excellent teammate. She is the varsity team record holder in the 500 freestyle. She has also been All-Conference for all four years and All-Academic for the past two years.