NFL: A History of Thanksgiving Day Games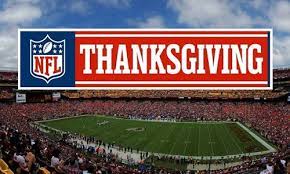 As the 2021 NFL season reaches just over the midway point, the traditional Thanksgiving games are just around the corner! The backstory behind these historic games all started in 1934 when George A. Richards, owner of the Spartans at the time, moved the team from Portsmouth, Ohio to Detroit, Michigan. The reasoning behind Richard's move is that he believed that he would be able to gain a lot of support from the fans, and he understood that there would be a big risk in scheduling on this date.
There has also been a big rivalry between our hometown Chicago Bears against the Detroit Lions. All throughout history, the overall record between these two teams is 10-8, with the Bears winning 10 games and the Lions winning 8. The Detroit Lions also have an overall record of 37-42-2 when playing on Thanksgiving day games. 
The other team that normally plays on Thanksgiving is the Dallas Cowboys. Their tradition of playing on this date all started in 1966 when the GM, Tex Schramm signed the team up to play in the Cotton Bowl. This game had a recorded breaking record of over 80,000 fans in attendance! That granted the publicity that Schramm wanted, and then the NFL stuck with them ever since. Another fun fact is they have only missed 2 Thanksgiving games, in the years 1975 and 1977. Dallas' biggest rival is the Washington football team. The Cowboys have an overall record of 10-1 over The Football Team, and a 31-20-1 record while playing on Thanksgiving day. 
Both the Detroit Lions and Dallas Cowboys have exciting matchups ahead this year on Thanksgiving! The Detroit Lions will be kicking things off and of course, host your Chicago Bears at 11:30 am CT. Next, the Dallas Cowboys will host the Las Vegas Raiders at 3:30 pm CT. Lastly, the New Orleans Saints will host the Buffalo Bills at 7:20 pm CT. Be sure to catch all of these primetime games, and have a safe and scrumptious Thanksgiving! Gobble Gobble! 

Sources:
Bears vs. Lions: A Thanksgiving Rivalry by The Numbers 
 Thanksgiving and the NFL – Football History 
Why the Cowboys and Lions always play on Thanksgiving Day, NFL teams' records on the holiday 
Here's why the Cowboys always play on Thanksgiving, explained