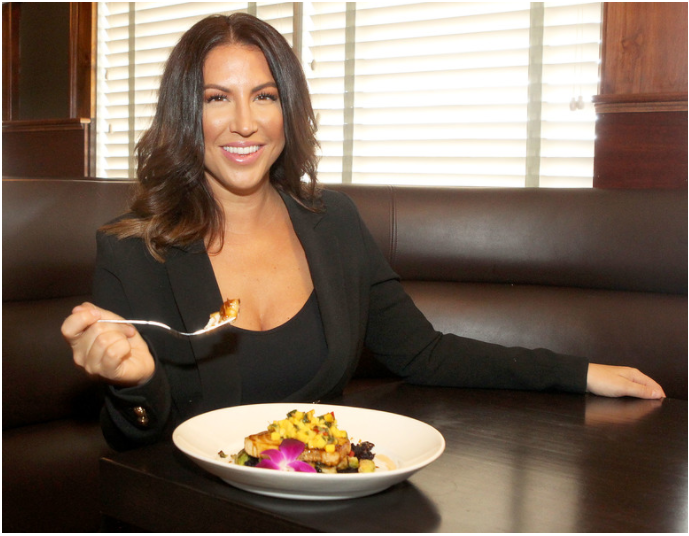 This is Nicole Khayat, a business owner that went to Warren and was Mrs. Illinois. She's married to Elliott Khayat, and together with family, they own Primo Italian American Cuisine, Chicago Pizza Co., Fatman's, and Lake House Lake Villa. Nicole also runs her online cosmetics store, Fancy Face Cosmetics and is the host of the TV Show Celebrity Eats. She got into the restaurant industry after meeting her (future) husband, Elliott, by hosting events at some of one of his bars when she worked On Air at B96 radio.  I was privileged to interview Nicole and ask her about the restaurant industry.
How is the restaurant industry different from anything else?
"The restaurant industry continues to change every day, it is our responsibility to evolve. This past year has been a great example of listening to what the customers want/need and pivoting quickly to make it happen.  I'd say the biggest change I've seen in the last 15 years I've been in the restaurant industry is the accountability & accessibility aspect.  Things like Yelp, Google, facebook, etc. didn't exist before…so when our customers would leave, we wouldn't know how they felt, what they loved, and where we can improve, nor could we contact them after. Now, because of those platforms, we can make more educated decisions on how to continue to grow, with real life/real people data."
How did the restaurants grow when they opened?
"Our recent growth has come from individualizing each brand even more. Primo, Fatmans, Chicago Pizza Co, & The Lakehouse are so unique, but it's really easy to let yourself think that if a product, recipe, etc, works at one place, let's put it at all of them. Once you can break that mindset, the places really started shine on their own, and made the Khayat Enterprises' brand more diverse….From dramatic differences in decor, to music selection, to logos, to menus, and everything in between."
Why did you change the name of Chicago Wood Fire Pizza to Chicago Pizza Company? 
"We changed the name from Chicago Woodfire Pizza Co to Chicago Pizza Co. because the word "woodfire" gave the idea that that was the only style pizza we served, when in actuality we offer thin crust, deep dish, and the woodfire Napoli style. We've actually won Awards for our Deep Dish pizza and it was kinda overshadowed by the name…so the name had to go!  Lol  
We also offer a full menu in addition to just pizza, and knock on wood(no pun intended) we have seen an uptick in business since the name change!"
How did you decide to have your own delivery drivers?
"When we shut down due to the pandemic, we wanted to give our employees an opportunity to supplement their income Since we could not be open for dine in.  We launched The Khayat Enterprises App during the shutdowns as well. We offer Free delivery via The App, so now that we are re-opened for dine in, there was a need to hire more drivers now that the rest of the staff are back to their pre-shut down positions.
We launched the Khayat Enterprises App because restaurants pay about 30% to the 3rd party delivery services…in addition to the up charges those companies put on the customers.  We felt it was time to have more accessibility and control when it comes to how our product is ordered, priced, packaged, & delivered."