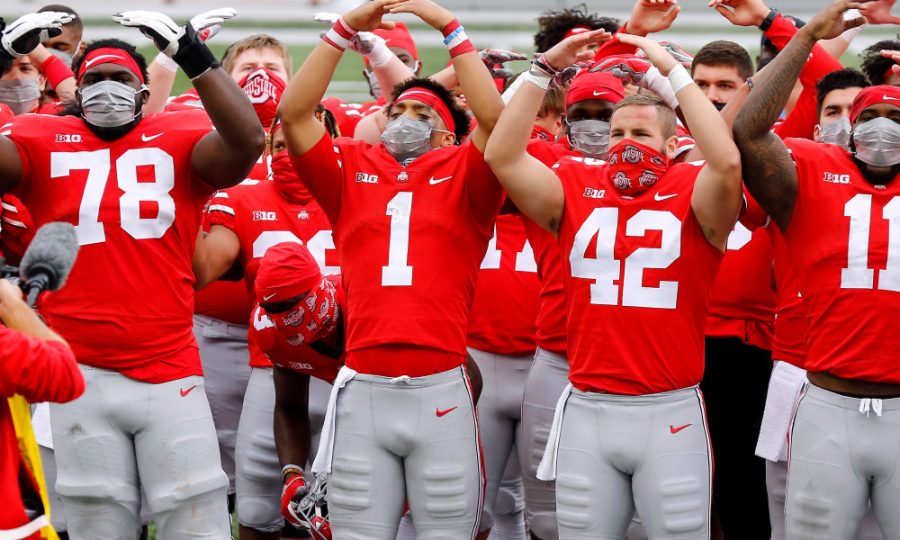 Joseph Maiorana-USA TODAY Sports
Last Saturday, Big Ten fans finally got to see their respective teams play for the first time in 42 Saturday's . As a fan of a Big Ten team, it has been an anguishing 42 weeks. Just a few weeks after the final Big Ten football team wrapped up their season, a global Pandemic came to be and took away normality, including March Madness for college basketball fans. At that point, we only knew that March Madness would be a scratch this year and we would be back to normal by football season. 
Obviously, that did not happen as we are still battling the Covid-19 Pandemic. 
On August 11th, Conference Commissioner Kevin Warren along with University Presidents and Chancellors, made the decision to cancel all fall sports in the Big Ten for 2020. This caused a bunch of backlash due to the fact that the SEC, ACC, and Big 12 were still planning to play their seasons as normal. The only other Power 5 Conference to postpone fall sports was Bill Walton's "Conference of Champions," the Pac 12. 
The cancellation of football lasted a whopping 36 days, the Big Ten announced that football will be able to resume practices and targeted a return for October 24th. This was definitely later than everybody wanted, but fans were excited to see their favorite college or Alma Mater play football on Saturday. There have been restrictions put in place for this season including that there would be no fans in the stadium. Only family members of the players and coaches are allowed to be in the stands this year. Even then, some Universities will not allow family members  due to their respective State's guidelines. Also, if a player tests positive, they won't be able to practice or play with the team for no less than 21 days. 
It was a fun weekend starting with Wisconsin obliterating Illinois in the Friday night opener. When we woke up Saturday morning, we had a full slate of games with the remaining twelve teams playing each other. Some results were a surprise, while others went as expected.
Here were last week's results.
#14 Wisconsin defeated Illinois 45-7
#5 Ohio State defeated Nebraska 52-17
Rutgers defeated Michigan State 38-27
Purdue defeated Iowa 24-20
Indiana defeated #8 Penn State 36-35 (OT)
Northwestern defeated Maryland 43-3
#18 Michigan defeated #21 Minnesota 49-24
Luckily for the teams that lost on week one, they will have another shot at a win in week two.
Here is Saturday's slate for week two.
Michigan State (0-1) at #13 Michigan (1-0) | 11am | FOX
 The Wolverines had one of their more impressive games in awhile by going into the cold of Minneapolis and beating the tough Gopher team lead by PJ Fleck. The offense had just less than 500 yards in the game and scored 35 points in the first half. The Wolverines forced two turnovers including a scoop and score in the first quarter. Unlike the Wolverines, the Spartans had an abysmal opener at home against Rutgers. A Rutgers team that hadn't won a B1G game since 2017. The MSU offense had seven turnovers on Saturday and it was an all around poor performance from Sparty. This is a big rivalry, but Michigan State can't get by Rutgers at home, they will have trouble with Michigan in Ann Arbor. 
Prediction: Michigan 35, Michigan State 14
Purdue (1-0) at Illinois (0-1) | 11am | BTN
The Boilermakers looked really good against the always tough Iowa team. Purdue was without their star Running Back/ Wide Receiver Rondale Moore and still managed to gain 104 yards on the ground. They were also without their head coach Jeff Brohm due to his recent Covid-19 diagnosis. The Fighting Illini defense did not do anything to intimidate Wisconsin Freshman quarterback Graham Mertz in his debut and the offense looked poor, and I mean that in the nicest way possible because it honestly looked pathetic. The Illini's only points were scored by the defense on a scoop and score in the first half.  The Purdue defense held a potent offense in Iowa to just 20 points. I don't think the Illini offense is good enough to win many games this season.
Prediction: Purdue 24, Illinois 10
#9 Wisconsin (1-0) at Nebraska (0-1) | CANCELED
After recent news of Badger two quarterbacks and head coach Paul Chryst testing positive, the Big Ten along with the officials at UW-Madison decided the game will be canceled with no plans to reschedule. This was the smart decision to keep the spread among the conference low. Now, we will have to wait and see what Illinois' test results are to see whether or not they will be playing Purdue this weekend.
Northwestern (1-0) at Iowa (0-1) | 2:30pm | ESPN
 The Northwestern offense looked better than ever in last week's blowout victory of Maryland led by former Indiana Hoosier Quarterback Peyton Ramsey. Ramsey is one of the most underrated quarterbacks in College Football with his ability to call his own number by getting out of the pocket and scrambling for positive yardage. The Cats defense forced four turnovers and looked really solid all around. On the contrary, Iowa looked good on offense, but penalties and the inability to score in the red zone hurt the Hawkeyes in their loss to Purdue in West Lafayette last week. The Hawkeyes had some struggles with the Purdue Quarterback and former Stevenson Patriot Aidan O'Connell who went 31/50 with 3 touchdown passes and 2 interceptions. They also struggled stopping the run last week by giving up 129 rushing yards to the backup running back. Iowa will miss the rowdy atmosphere of Kinnick Stadium, but I don't think it will affect the Hawkeyes too much. I think the Iowa offense will shake off the cobwebs and have a breakout performance this weekend, but the defense will struggle a bit with the mobility of Peyton Ramsey. I expect this game to be one of the better games in the Big Ten this week.
Prediction: Northwestern 31, Iowa 28
#17 Indiana (1-0) at Rutgers (1-0) | 2:30pm | BTN
Who would've thought that the only match-up between undefeated teams in the conference would be between Indiana and Rutgers. Indiana is coming off a huge upset over number 8 ranked Penn State. It's their first win over an AP Top-10 opponent since a 31-10 upset over Ohio State in 1987. No, that's not a typo, it's been 43 years since the Hoosiers knocked-off  a team in the Top-10. The Hoosier defense was incredible forcing three turnovers against a solid Penn State offense. Redshirt Sophomore Michael Penix Jr. had a shaky start missing wide open receivers, but recovered with a game tying 75 yard game tying touchdown drive and two point conversion late in the fourth quarte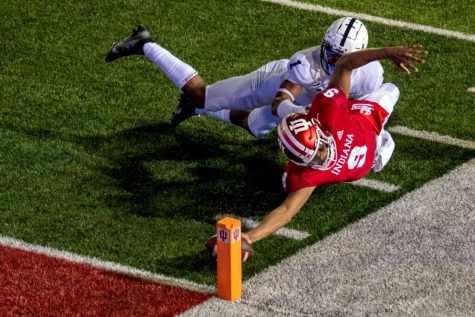 r to force overtime. The Hoosiers eventually won 36-35 in OT on a controversial call that proved football is a game of millimeters. The win has the Hoosiers ranked the highest they've been in the polls in over 25 years. Like Indiana, Rutgers surprised the nation with a win over Michigan State in East Lansing. As mentioned, it was the Scarlet Knights first conference win in over three years. Greg Schiano is back at the helm of the Rutgers Football program after being in Piscataway from 2001 to 2011. The defense forced seven turnovers and took advantage of a poor Michigan State performance. Rutgers proved to the conference that they aren't an easy win and the Hoosiers must know that just because they beat Penn State, it doesn't mean they will run through Rutgers. I think Indiana coach Tom Allen knows this and will have his team prepared to play the Scarlet Knights. Expect Indiana to start the way they ended the game on offense and to continue their dominance on the defensive end.
 Prediction: Indiana 34, Rutgers 17
#3 Ohio State (1-0) at #18 Penn State (0-1) | 6:30pm | ESPN
 ESPN's College GameDay will be in State College Saturday morning due to the fact that it is the only ranked matchup of the week. Other than that, this game doesn't intrigue me for a few reasons. The Buckeyes are at a different level than every other Big Ten team this season. There will be no fans, so it won't be a classic Penn State whiteout where the opposing offense can't hear anything. The Nittany Lions offense was less than impressive last week against Indiana. Sean Clifford didn't play very well throwing two interceptions that were 100 percent on him with throws missing his targets on both of them. The defense looked pretty good most of the game forcing a lot of three and outs. Most of Indiana's touchdown drives started with a short field. Meanwhile, Ohio State impressed me last week in their blowout win against Nebraska. Justin Fields had another impressive performance going 20/21 with 276 yards 2 TD passes and a rushing touchdown. Ohio State is going to be a freight train running through the Big Ten this season because they look unstoppable for what it seems to be like the 75th year in row. I expect this primetime game to be close in the first half, but Ohio State pulling away big in the second half diminishing all hopes for Penn State to make the College Football Playoff this year.
Prediction: Ohio State 45, Penn State 24
*All times in Central*