"A day on, not a day off" – Why we celebrate Martin Luther King Jr. Day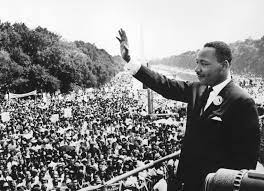 Since 1986, our country has celebrated the life and legacy of Dr. Martin Luther King Jr. Despite his sacrifice, the first time all 50 states celebrated his holiday was in 2000. In addition, several states refused to name the holiday after him or combined the day with other figures such as Confederate general, Robert E. Lee. He is 1 of 3 individuals (Christopher Columbus and George Washington) to have their own day of celebration.  Since 1994, the holiday has also been used as a day of service- "a day on, not a day off." All Americans are encouraged to volunteer to improve their communities. The federal AmeriCorps agency has been charged with leading this effort for the past quarter-century. Overall, he is arguably the most influential and recognizable figure in the history of the Civil Rights Movement. 
He dedicated his life to fighting for racial equality, voting rights, and emphasized the power of remaining peaceful. Unfortunately, 54 years after his assassination the country is still having problems surrounding voter discrimination and civil rights. Since the 2020 election cycle, several states have passed laws to disenfranchise voters such as requiring ID, banning food or drink, or restricting mail-in/same-day voting.  In Congress, senators are debating changing the filibuster in order to pass voting rights legislation.
It is important to realize that the Civil Rights Movement was not that long ago and many of our grandparents were alive to witness it. Dr. King would have been 93 years old; younger than Betty White who just passed at 99 in 2021. 
                                            The best way to honor Dr. King is to make a change in your community by fighting injustice.
                                                             "The time is always right to do what is right." – Dr. Martin Luther King Jr.