A Tragic Day For UVA
The amount of gun violence seem to be increasing by the number everyday, claiming lives of the innocent and unwilling. It is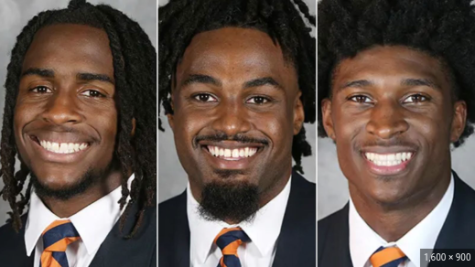 a miracle to survive gun violence, so for those who don't, the impact is tremendous and the loss great.
On the night of November 13th, 2022, a mass shooting took place at the University of Virginia in Charlottesville, Virginia. This shooting reportedly took place on a bus full of students who were returning from a field trip back to the school's campus. The shooting resulted in three fatalities, two critically injured victims, and others reported with minor injuries. The victims were students at UVA. Lavel Davis Jr., Devin Chandler, and D'Sean Perry unfortunately lost their lives. Additionally, Marlee Morgan and Micheal Hollins were rushed to the ICU in critical and stable condition, respectively.
Ryan Lynch, a student at UVA, was present on the bus during the moment of the shooting. Lynch claimed that Christopher Darnell Jr. committed the shooting. Lynch stated that there was no conflict prior to the bus's departure. She professed, "at first I thought it was chips or, like, balloons. I was really confused." Lynch then mentioned, "after I would say the fourth gunshot, there was a cloud of smoke that filled the bus. And after I smelled that, even though I couldn't see anything going on in the back, I knew there was something really bad happening." She later said that she threw herself to the ground and covered herself with a blanket. While attempting to hide, Lynch also stole glances at the unfolding horror. During this interaction, she claimed how she was fearful for her life: "the sound of the shots just kept kind of creeping up the aisle. And I saw the shooter pass me and he passed me very slowly…I thought he was going to shoot me too. And I just sat there quiet, still, didn't say anything. And thank goodness he just passed me and went off the bus and then he shot into the air again when he got off."
Another survivor present on the bus claimed that alleged shooter Christopher Darnell Jr. was not shooting at random, but rather targeting specific students. The witness stated that shooter shot Devin Chandler as the student slept. This led the authorities to believe that the assault was premeditated.
After the accused perpetrator Christopher Darnell Jr. was taken into police custody, it was revealed that this was not his first run-in with the law. Christopher Darnell Jr. has several prior misdemeanor charges, including hit-and-run and property damages, illegal possession of a concealed weapon, and further outstanding charges from his time as a high schooler.
This event has shaken the community tremendously, with the parents, families, and friends of the victims grieving heavily. Parents have filed lawsuits against UVA on the allegation that the school was completely aware that Christopher Darnell Jr. was in possession of a concealed firearm. UVA and the State Department are taking actions to prevent similar incidents from occurring.
Sources:
National Public Radio (NPR)
CNN
Washington Post
Wavy.com
WVNS-TV News