An Inside Look With Dean Colgan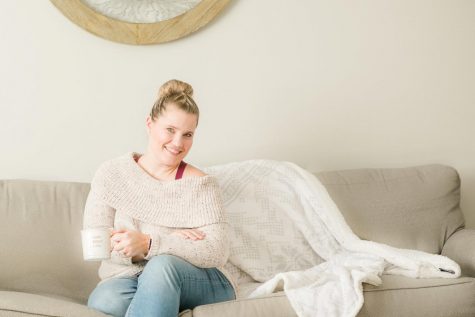 Fresh off a successful 10-year career with the award-winning WTHS Fine Arts program, Natalie Colgan has stepped into a completely different role as Dean of Students at the Almond campus.
Her new office is adorned with pictures of her twin girls and a cheerful green plant. When asked about the plant, she laughs and says she lacks a green thumb. However, after speaking to her about her career at Warren, one can see that she has a genuine interest in cultivating the growth of her students. Lovingly referred to as "Mama Colgan" in her choir classes, Natalie Colgan helped her students blossom and grow along the way. 
"Choir boosted my overall confidence in front of crowds," said Kate Peters, a 2019 Warren graduate who was in the choir program for four years. "We knew she was shadowing to become a dean," Peters said. "I was very happy that it was my senior year and not my junior year," she chuckled. "We moved up, and so did she."
Despite having a job that she loved and a career she was passionate about, Colgan felt it was time to explore other options. She said her reason for becoming a dean was two-fold: to find a better work-life balance and to look for a new challenge, something that was not a typical career path, from choir teacher to dean. "I don't think you hear that very often," she laughed.
Beyond her normal class load, her free time was consumed by extracurriculars like show choir, musicals and drama club, which often made her miss out on an important part of her life: her family. With four-year-old twin daughters in full-day preschool, she didn't want to miss out on what they were doing. 
"There were a lot of things after school that just kind of came with the territory, and I knew it getting into the profession, and I love doing those things, but I have a family."
She said she may not have her hand in the musicals or drama club anymore, but because she still has a close relationship with her students, she'll still get to pop in during rehearsals to say hi. And for her that's important.
"I love that I'm still at Warren, I've spent my whole career here," she said.
Colgan said that was part of the reason she wanted to be a dean. When she interviewed for the job, one of the questions was, "Why do you want to be a dean?" She told them that it wasn't that she wanted to be a dean, it was that she wanted to be a dean here. 
"I want to work with this student population, I want to work with this administration, these teachers, because I built a community here and I love the Warren community."
In the first year of the two-year process to become dean, Colgan said she shadowed retired Dean Ridker at the O'Plaine campus before she retired. She observed Ridker during her lunch break and prep period to get a better understanding of the job. She also worked with now-retired Dean Pat Shay at O'Plaine last year, and helped fill in for Mr. Pagan at Almond when he was on paternity leave.
"I feel like I have a lot of support coming into the dean's job, just being able to shadow and look through what they've been doing," Colgan said.
She said one of the surprising parts about being a dean is having to think on your feet and make rational decisions based on the information you have. 
"I knew what the job would entail, which is dealing with student behavior, a lot of times negatively, but I thought that maybe my strengths could translate and help influence some kids positively who maybe had made some poor choices." 
She said when she got her degree, she didn't necessarily see herself as a dean, but maybe a fine arts department chair or supervisor. But when she started thinking about her strengths and what she was good at, Colgan said she knew her skills in building rapport among students, actively listening to what they say, and validating their feelings and thoughts would serve her well as a dean. 
"I was trying to figure out if I didn't want to be a choir teacher anymore, what could I do that still gave me access to students, to be able to work directly with my kids, and so dean kind of came to mind," Colgan said.
She spent the first few weeks of school at Almond adjusting to her new role and schedule as a dean, which has provided a unique challenge compared to her previous position. Colgan said as a choir teacher she always knew what to expect on a daily basis and what her day would look like. But now with regular meetings with the two other Almond deans, management team meetings, student service team meetings, student council, and more, her days are busy and her schedule full.
"As a teacher, you live your day in 42-minute incrments, and that's not always true as a dean," she said. "We never know what's going to be thrown our way, which is challenging and exciting. You just never know what's going to pop up."
Colgan said she has stepped away completely from the music and theatre programs this year, but has worked closely with the new director, Ben Westphal, during the transition. In fact, they actually went to the same college and have known each other for years. When asked what advice she would give Mr. Westphal, Colgan said he should be himself, continue to connect with the students, and build upon what she has done over the past 10 years to take it to even greater success.
"He's phenomenal, and I can say that because I know him," she laughed. "I know how he teaches, and I know he's going to be such an asset for the Fine Arts program."
As far as her former musical career at Warren, Colgan she said she would miss making music every day and would just have to find a way to do that on her own.
"I went into music education because I wanted to share my passion with students," she said. "But it's kind of like therapy to me. To be able to make music, and play the piano, and sing every day, it's like having your favorite job ever and also having a therapy outlet all at the same time."
And now her passion for helping students find their voice is at the academic level rather than a musical one.
"We're all here for the same thing," she said of the deans at Warren, "and that's to help students make good decisions, and to succeed, and to graduate."
She has sown the seeds for student success, and will surely reap the rewards of her hard work in the near future.