UNC Alumni charged with murder in fatal shooting of associate professor.
Occurring in broad daylight on Monday, August 28, 2023 on college campus at 1 pm, shots were reported fired and during this time associate professor was allegedly killed. Zijie Yan has worked at the University of North Carolina since 2019 in the department of Applied Physics sciences. The suspect responsible for the shooting and murder of Professor Yan is Former UNC Alumni Tailei Qi. Dr. Yan was the academic advisor of Tailei while he was attending UNC. It was later reported that Yan knew his murder prior to his death. Yan was Tailei's faculty advisor according to his academic records. Authorities reported that Tailei's motives were unclear, and through recent evaluation there was no revelation of former altercation or suspected tension between them. Regardless of these claims, Tailei was accused of first degree premeditated murder.
Following the shooting, when authorities arrived on the scene he was nowhere to be seen. He was reported at large for an hour where he was later arrested shortly after 2.30 pm. This event has left the UNC community on edge, not only for the incoming freshmen, but for the past sophomores and seniors. Events like these are why reason why students fear going to college-
"Can you imagine just sitting down minding your own business and just suddenly hearing gunshots…"
" If you hear the gunshot you're not the one that got killed"
" That could have been me…"
" My child could have been in that room…"
These are some of the comments expressed by the concerned students and community members. Who could have imagined that such an event would transpire at the beginning of the school year? Chancellor Kevin Guskiewicz of UNC released a statement that "This loss is devastating and the shooting damages the trust and safety that we so often take for granted in our campus community. We will work to rebuild that sense of trust and safety within our community,". Guskiewicz claimed that Dr.Yan was Beloved by his community, both staff and student. Dr.Yan had a family and two children; this abrupt death has put their lives at a standstill.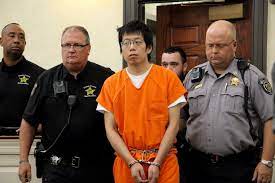 Shortly after the shots were fired UNC issued a full campus lock-down. The University has over 32,000 students, along with 4,000 faculty and 9,000 staff members. Eyewitness reports from the campus during the shooting claimed there was chaos in alerting the staff and students regarding the action seeking shelter. The lock-down remained in action for the duration of 3 hours and ended shortly after 4 pm.
On September 18 Tailei Qi was brought to trial. He was reported to have arrived in the court dressed in an orange prison jumpsuit and hands handcuffed. He was aided by an interpreter. Furthermore, he was assigned a public defender for his first appearance. Tailei is not a United States citizen, rather a citizen of China. He was studying abroad on a student visa, as proclaimed by his Attorney Jeff Nieman. Nieman reported that the weapon used was a 9 mm handgun which authorities have not been able to recover. If Tailei is convicted he faces a minimum of a life sentence without parole for the murder charges; an additional 2 years will be added for illegal weapon possession on educational property. Within the jurisdiction of North Carolina First degree premeditated murder, the death penalty is warranted, but Nieman argued against it in light of Tailei's circumstances. Due to Niemen's intervention the trial was brought to a halt and set to re-adjourned on November 14, 2023.