Becoming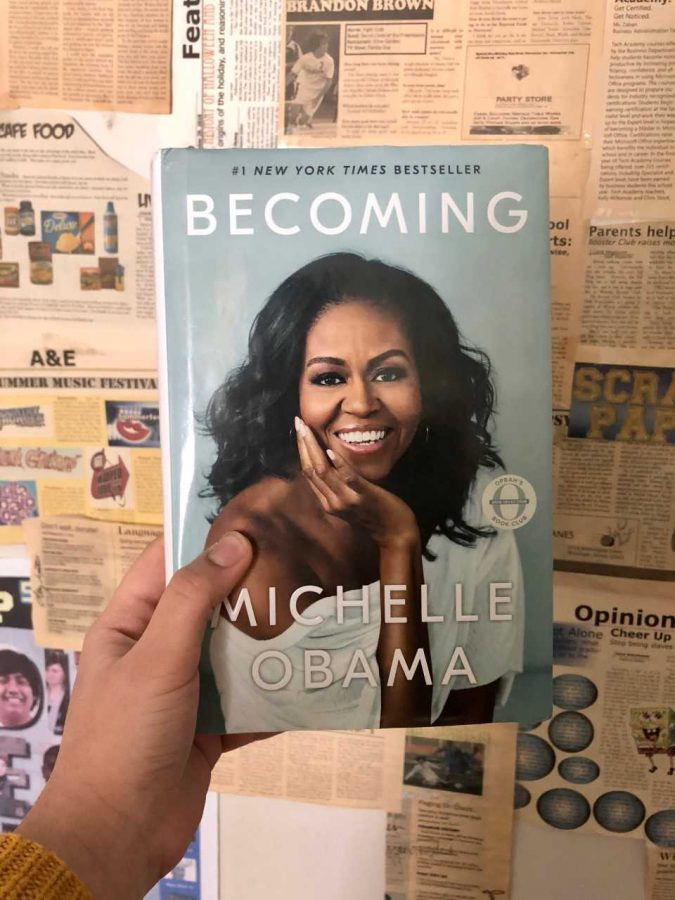 Michelle Obama began as many of us do: she shared a room with her sibling, lived in a humble home, and struggled through the many stresses of school. In her book Becoming, we have a front row seat to some of young Michelle's  most memorable experiences, such as her first piano recital or first kiss. Obama's writing blends her sharp intellect with a keen sociopolitical eye and conversational tone, effectively drawing us inside her brilliant mind as she depicts her inspirational journey from Michelle Robinson of the South Side of Chicago to First Lady Michelle Obama.
Obama's story opens with an introduction to her strong familial foundation. We meet her powerhouse mother Marian, who pushed her to excel in education and speak her mind; her father, who embodied resilience in the face of multiple sclerosis: and her protective big brother Craig, who would test Barack's character through a game of basketball under Michelle's request. Accompanied by the soulful jazz her family so loved, Michelle illustrates the nucleus of her young life, which taught her the importance of frugality, self-confidence, hard work, and thick skin.
Her narrative writing style allows us to feel her every experience first hand. Thus, we suffer the sting of otherness when it penetrates her tough exterior as she becomes one of very few African American women at Princeton, Harvard, and the Sidley Austin law firm in Chicago, working her first job. We persevere and relate as she battles the persistent belief that she simply isn't good enough. Our hearts flutter as a young Barack asks permission to steal a kiss in the warmth of a summer night. We "swerve," as she calls it, for the first time as she strays from her lock-step path toward law in favor of a more fulfilling career public service.
As her relationship with Barack unfolds, Michelle, like many women, struggled to balance work and family life. Mrs. Obama opens up about her husband's growing political career and the strain of his extensive hours on her ability to thrive, both in terms of career and in motherhood.
Even the Obamas needed couples' therapy.
Furthermore, Michelle illustrates her internal conflict with each new Obama candidacy, knowing it would mean less family time, and yet she couldn't hold back her "gifted" man. She sacrificed for a man and a campaign she believed in.
Once her husband was named Commander in Chief, she tells how a simple date meant shutting down a street of NYC, fully equipped with a motorcade and pat-downs of customers at the restaurant they attended; as Michelle puts it, they simply became too "heavy" to carry out normal excursions. Despite their heightened 'weight,' Michelle feels that they became closer throughout the presidency, a testament to their love.
As a mother, Michelle was always weighted with worry over her children. She worried that they would lose all sense of normalcy, as they learned how to drive from the Secret Service and appeared in tabloids for engaging in typical teenage behavior, not allowed any room for error. She also worried how their nutrition suffered from fast food in the era of Supersized everything. This concern led to her initiative Let's Move, combating childhood obesity across America.
Through such programs, Michelle expanded the oft symbolic duties of First Lady to affect real change in nutrition, treatment of veterans, and girls' education worldwide. All the Obamas felt the pressure of the precedent they were setting. Constantly aware of their historical significance as the first African American family in the White House, Michelle knew that everything she said, wore, or even implied could tarnish not only her reputation, but that of her husband and racial community. Though acutely aware of potential dangers, Michelle exudes immense appreciation for her pivotal platform.
Honored by her and her husband's commemorative portraits in the Smithsonian National Portrait Gallery, the first of which to be painted by African American artists, Michelle remarks,
"
I doubt that anyone looking at our two childhoods, our circumstances, would ever have predicted we'd land in those halls. The paintings are… there for young people to see- that our faces help dismantle the perception that in order to be enshrined in history, you have to look a certain way. If we belong, then so, too, can many others."
— Michelle Obama
The progressive pair consistently use their platform to shine a positive light on the African American community, optimistic of the future leaders they will inspire through their long awaited representation on the highest platform in the country.
We too can make good on the struggles of our ancestors. We too can find humanity in surreal circumstances and fight for, reach for, obtain our goals, and continue to Become. Whether it be the politics, romance, social justice, family ties, or simply Michelle's sheer brilliance that interests you, Becoming is an empowering tale of the possibility of impossibility, of which everyone can learn from.