Behrens: A Rising Superstar
Jaden Cohn, Scratch Paper - Staff Member
November 7, 2022
"Tick, Tick, Tick"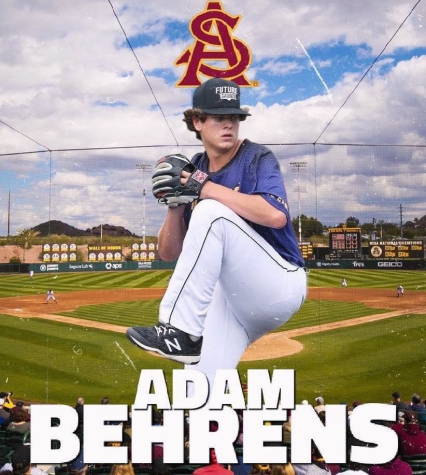 The clock's final minutes slowly wind down as the Blue Devils line up for their final drive of the game. The band can barely be heard playing the "Warren Fight Song" over the thunderous roar of the crowd. Chills of October football are in the air. Number 9, lines up behind the lineman, his heart racing and breath shaking. This is a huge play for the Devils. It could be the end all for the Blue Devils. "Set", "Hike!" The ball is snapped, he takes the snap, rolls out to his right to escape the pressure, and delivers a precision pass to the wide receiver for the score. The crowd explodes in excitement, and Warren has done it! Warren is triumphant to victory!
Who is number 9? Senior, Adam Behrens that's who.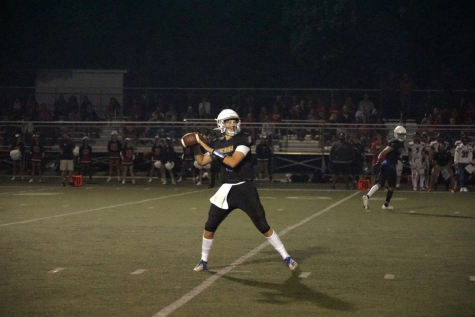 Dual sports athlete, Adam Behrens is currently on his way to lead the Blue Devil football team to the IHSA football playoffs, and he's not just stopping there. Behrens and the rest of the hungry Blue Devil Seniors have aspirations for the state championship before heading off in different directions for college. Not only is Behrens the star quarterback for football, but he is also the top dog in baseball. From pitching strong innings, to stealing bases, to raking home runs, Behrens can do it all. 
With being the star high-school varsity quarterback, and an exquisite pitcher, how does Behrens manage all of it? "Being a student athlete can be hard to manage sometimes. I have people in my life to push me in school early on in high school and over time I've taken school more seriously. I learned to manage time well with school, sports, and hobbies. I've learned study habits so that I can succeed as a student athlete in college as well" Behrens stated. Behrens also added that he has aspirations of going big places, and that the hard work will eventually pay off in the long run. Not only is Behrens hard worker on the field, but he possesses great aspects and qualities that will help him in his athletic career.  Having the life of a student athlete can be a tough especially senior year because they also have the challenge of getting the attention of colleges that will hopefully recruit them.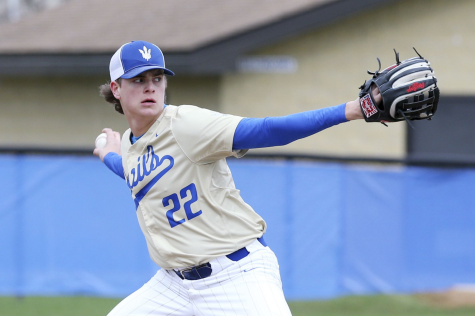 Luckily for Behrens, he was able to commit to ASU, a D1 school, his junior year! "I decided to commit to ASU because I loved the campus and all the athletic facilities. They have top of the line facilities that will let me progress tremendously. Also, they got a new head coach that was the one to recruit me. He is an MLB veteran and played in the league for over a decade. He also played at ASU, so he is trying to build a monster team to be able to compete for a national championship. I fell in love with everything about ASU. It has always been in my top 3 dream schools", Behrens responded to why he committed. Being on the radar of a new college recruiter is mighty impressive. But what goes on inside the mind of a dual varsity athlete, and what does being a student athlete mean to Behrens? "An athlete who can't get good grades creates bad habits and cannot be trusted. You can afford to be ineligible in games and let down your team. Also, there is a part of your life when you are an athlete and when that is over, you still must make a living in the real world" Behrens exclaimed.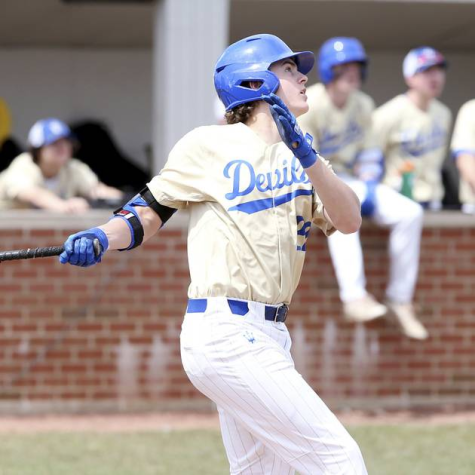 He fully understands that when he is not on the field, that there is more to life than that and the actions that are taken can affect the whole team. Behrens has become an expert with training the underclassman to their full potential just as his older peers have done for him. One of the major setbacks in Behrens' athletic career was the effect of Covid. Behrens was a freshman when covid came into effect, and was just about to go into his freshman baseball season when it was canceled. This took away from what could have been a great first year of baseball and provided a major challenge for Behrens and the team. Nonetheless, Behrens implied that he was still able to get some practice in with his Dad, and other travel baseball teammates.
Going into Sophomore year, the football program was just able to have their season, only in the spring of that year, and it was a shortened season. With the tremendous display of athletic ability, Behrens got the call from Varsity. "The shortened covid football season was a fun time being a sophomore brought up to varsity to try and earn a starting spot. All the upperclassmen taught me lessons that stick with me to this day" Behrens added. This clearly shows the hard work and dedication that Behrens has put in over the years because he was so determined to fight for the starting quarterback position as a sophomore!  Another major setback came at the end of Sophomore year. "It was when Behrens was advancing to third when he slid, tumbled and ended up with a broken hip", Coach Smothers, one of Warren's varsity baseball coaches, explained. Behrens took a major fall while attempting to steal a base when he took a bad fall and broke his hip.
Moving forward in his athletic career, this catastrophic event really affected Behrens dual athleticism in the fact that by junior year, he had to step away from the football field. "I needed a year to focus on baseball so that I could eventually earn a scholarship. It was sad to leave the sport I loved, but it was what I needed to do" Behrens emotionally stated. This decision would ultimately pay off because Behrens would be approached by schools with that opportunity, and he would decide to take his talents to ASU.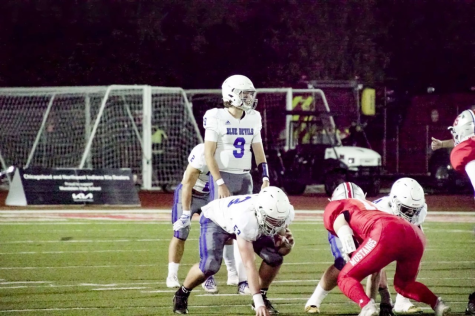 On to Senior year, one last ride, and the return of number 9. Everyone was pumped when they heard the news that Adam Behrens was going to be taking over the team with aspirations of that championship. "I made the decision to come back this year for my senior year. I wanted to play with all the guys that I have been playing with since I was little. It really has made my experience as a senior in high school amazing" Behrens said solemnly. Leading the Blue Devils to a hot 8-1 record in the regular season. Behrens and the Blue Devils want to keep riding that hot hand into the playoffs.  Since Behrens is so good on the football field, what aspects does he bring to the team? "Confidence" was the one big word used by Warren's varsity coach, McNulty. "One of the ways he's grown as a player on our team is just showing confidence and trust in our offense. He brings both confidence on and off the field and absolutely believes he's going to win" stated McNulty. Behrens has also shown great leadership skills to some of the underclassmen, and is ready to pass on the torch for when the time comes. "He's definitely grown from his sophomore to his senior year in terms of his overall game. It's even more impressive because he took a year off, and he's also grown not only physically but mentally" McNulty added. Behrens has also made a huge impact on the baseball field, and has been a great  influence to both his teammates and coaches. "The kid comes from a great family, and he's such a great person overall. Adam influences not only his teammates, but he influences other kids in our conference, and they look up to him" was what Coach Smothers described how much of an impact Behrens has on his team. Behrens has made such a difference throughout his athletic career with both baseball and football. Behrens is such an example of what a successful student athlete should look like, and is just an overall important factor in Warren's community. To quote Coach Smothers, "Adam has been a pleasure to not only coach, but to get to know him as a person. We're so excited to see what the future holds for him."
So, who is number 9? Only one of the greatest duel sports athletes to ever walk the halls of Warren Township High School. Adam Behrens is: A rising Superstar.