The Kanye-Kim-Pete Situation, broken down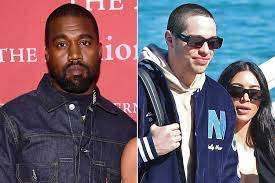 When Kanye West (44) and Kim Kardashian-West (41) got divorced in 2020, the world was shocked. After all, they appeared to the public to be the perfect couple. However, what shocked the world even more than that was when Kim Kardashian-West started dating Pete Davidson (28) shortly after her appearance on SNL in October. This led to a series of controversial and highly-publicized Instagram posts by Kanye West ranging from hating on Pete Davidson to breaking off long-time relationships with friends to trying to get Kim Kardashian-West back.
Kanye West has been trying to get Kim Kardashian-West back ever since she filed for divorce in February 2021. One such incident was Mr. West buying a house directly across from his ex-wife's house, despite the fact that one of the causes of the divorce was his desire to move to Wyoming. However, it was only in February 2022 that this began to escalate. On February 13th, West posted his displeasure with his ex-wife's relationship with Davidson, and the very next day, he sent a truckload of roses to her house. Recently, he even began the process of blocking the divorce, as it could have "adverse consequences". Throughout this all, Kardashian-West has expressed her desire to be divorced.
Due to Kanye West's uploading and deletion of Instagram posts, it's impossible to understand everything that's happened. However, it's enough to have an understanding of what's going on. Kanye West has bipolar disorder, which many have speculated is related to these incidents. However, due to the lack of substantial evidence, as of now, the consequences of these actions are more relevant.
Kanye's actions were wrong. One of his Instagram posts told his fans to yell "Kimye Forever" if they saw Kardashian-West and Davidson together. Not only that, but after that, he released private screenshots of his conversations with his ex-wife when she expressed concerns about Davidson's safety. This type of behavior is unacceptable for a public figure. West is using his position of power and authority to harass his ex-wife and her new boyfriend.
Let's take a moment, to say, hypothetically, that you knew Kim Kardashian-West and Kanye West. These were your friends, and this situation played out. You wouldn't view this as funny, and that's because this situation isn't funny. It's concerning. This isn't a case of celebrity drama, this is a woman who's trying to distance herself from someone who won't leave her alone. This has gotten to the point where people, especially Pete Davidson due to his more limited fame, could be hurt. This is a problem. This isn't something that we should laugh about, this is something that we should acknowledge as potentially dangerous.
It's not bad to be invested in celebrity drama. However, I think that it's important to humanize those who are involved, because this is an incredibly dangerous situation for those involved, and I hope that a peaceful resolution can occur.