Conley Catches Chance At Being Warren's First Four Sport Athlete
When you walk into Warren Township High School's Almond Campus, you see the twenty-nine student athletes that played three sports throughout the 2020-2021 school year. On a list of athletes that spent the entire school year balancing their time between three sports and academics, there is only one athlete that defied all odds and played four sports last year for Warren. His name, Ben Conley.
Conley played golf in the fall, bowling in the winter, soccer in the spring, and concluded his season in the North Suburban Conference, winning the boys volleyball championship. 
Conley had to balance his time between his academics, which were online all year, and his athletics. "Learning was already tough enough on a computer and there were times I had two sports going on at the same time on top of all the school work," Conley stated on trying to balance academics. Conley also noted that sports were a great escape from the eLearning lifestyle. "However, sports were my way to get away from the screen for a few hours."
The COVID-19 pandemic rattled the cages of many high school students throughout the world, but instead of dwelling on what was going on around, Conley used his favorite thing to do, playing sports. "I had a bunch of free time on my hands and I wanted to try golf and bowling all along. I just never had time." Conley wasn't usually able to play golf due to the soccer season being at the same time, but with soccer being postponed to the spring, Conley seized the opportunity he saw and made the Varsity golf team.
There haven't been many, if any, four-sport athletes at WTHS in the past, but Conley is one of the very few in the state of Illinois to play four. "It's pretty amazing," Conley said of his feat.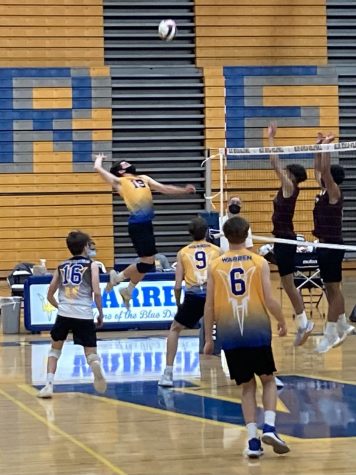 Conley did not really think four sports was a possibility until he made the golf team in August. "When I found out I made the golf team, I was so relieved and knew my journey had just begun."
Conley was a captain on the lower level soccer teams he played Freshman through Junior year thanks to his leadership on and off the field. He finds it important to be a leader on a team because it gives great life skills. "It was important to make sure everyone was happy and felt involved with the team," said Conley. 
During the 2021 fall soccer season, Conley wasn't primed for a big role on varsity, but he did what he does best: stayed the course and waited his turn. He came off the bench in the opening third of the season, but Conley got his opportunity to start in a game, and it was evident that you could not leave him off the field. Warren soccer coach Jason Ahonen had high praise for Conley's leadership. "Ben's leadership is through his actions and not words," Ahonen said. "He is very mature and leads by example."
Conley used the support of his parents, Pat and Michelle, throughout the year to keep him motivated each and every day. "I cannot thank my parents enough for their support throughout all four sports seasons." Conley noted of his parents. "They were there every step of the way to cheer me on at the golf course, bowling alley, soccer field, and volleyball court."
Conley ended our conversation with a comment about his legacy: "I wasn't the star player on any of these teams, but I'll still consider myself to be one of the best athletes to come through Warren in my own special way."