Free Britney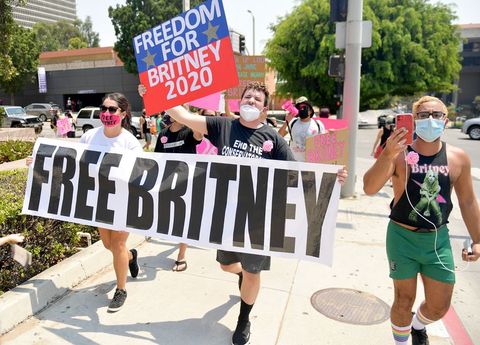 On November 12th, Britney Spears was freed from her conservatorship after almost 14 years. The conservatorship came in place after her infamous 2007 mental breakdown and her father was given complete control of her life, career, and finances – which is valued at a net worth of 60 million.
The California legal system defines a conservatorship as a situation where "a judge appoints a responsible person or organization to care for another adult who cannot care for himself or herself or manage his or her own finances. The ethics behind the conservatorship have been heavily debated as she was able to seek treatment for her mental health and has released several songs and albums since 2008. 
A fan-led movement #FreeBritney started to gain momentum last year which resulted in protests, legal cases, media coverage, and a documentary, Framing Britney Spears. Explosive allegations of abuse came to light in June 2021. Britney accused her parents of forcing her to perform, not allowed to get married, have more children or remove her IUD. It was later alleged that her father used secret surveillance cameras to record the singer in her home.
Throughout the summer, several members of her team resigned, she was able to pick a new legal team, and her father was eventually suspended as her conservator in October. 
Due to the massive outrage over Britney, congress introduced a bipartisan proposal on July 20 by Rep. Nancy Mace and Rep. Charlie Crist It's called the Freedom and Right to Emancipate from Exploitation Act or FREE Act. 1.3 million Americans are still controlled by conservatorships. The bill would allow a person in conservatorship to petition to replace their court-appointed private conservatory with a public conservator, family member, or private agent, without having to prove abuse. The bill would also offer state funding for caseworkers to monitor conservatorships, with states that accept the funds requiring both caseworkers and public guardians to disclose their finances. States would also have to report on conservatorships annually.
As for the "Princess of Pop," Los Angeles County Superior Court Judge Brenda Penny terminated the court-ordered arrangement. Britney will be able to restart her life and continue her iconic career.