Girls Bowling: Kayla Cameron
Junior Kayla Cameron recently represented the Warren Blue Devils in Rockford at the IHSA State Bowling Tournament on February 17th. Kayla went on to qualify for the state finals on Saturday the 18th and placed 17th overall bowling an average of 203.1 for 12 games.
While she did an amazing job at state, she also had an amazing season as well. She improved her overall season average from 198.44 in the 2021-2022 season, to 207.09 in the 2022-2023 season.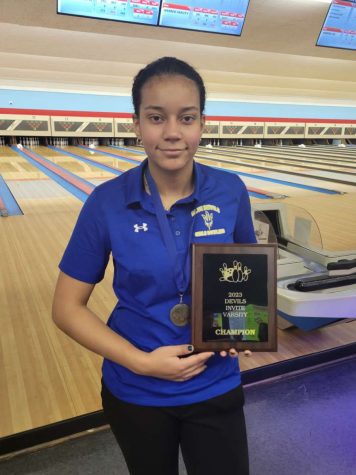 This is averaged from a total of 90 games per season. She bowled her highest three-game series of 727 against Libertyville at Lakeside Lanes, which consisted of the scores: 204, 255, 268. But Kayla has also shown jaw-dropping abilities at the weekend tournaments.
Week after week Kayla showed amazing performances in conference matches and weekend tournaments, placing at every single tournament, including taking first overall at our very own Blue Devil Invite this season. But she wasn't born this good. Kayla spent hours in bowling alleys practicing and preparing for the season, and even stayed late after practices to bowl extra games. The head coach, KC Lange, believes, "Kayla is going to grow as both an excellent bowler and excellent young adult. She consistently works to improve all aspects of her game while still excelling as a student-athlete." With Kayla's continuous hard work and effort, we can expect to see a bright future for her not only on the lanes but also in the classroom.
Her teammates believe that Kayla is a natural born leader and helps whenever she is able. Coach Lang said that her "leadership and demeanor are the most important qualities she brings to the team. She is an exemplary teammate who shares her knowledge with others, but also knows how to have fun with her peers." With her incredible work ethic and mental strength Kayla, will go on to do amazing things and represent the school at the State Finals again next season, and maybe even bring the team with her.