Girls cross country takes a win with 1st place in all races!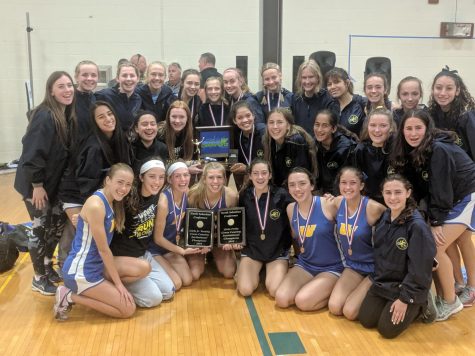 The girls cross country team won first place in all three races for their conference meet on October 19, 2019. With the varsity team placing 5 runners in the top 12, the JV team winning by 35 points, and the Frosh/Soph team winning by 13 points, it is no doubt the girls took strong dedication and teamwork to make this win happen. 
Hailey Smith contributes to the reasoning for the team's success:"I definitely think that it was a team effort, we couldn't have done it without a single person. Every single person contributed to it [winning the conference]," 
One of the team's motto has been "Together, Together, Together" for years and many team members are in agreement that the team's success would not have been there without standing together through hard workouts and support from other girls. 
The girls cross country team was recognized by Fox News, October 25, and the girls were excited over it: "I think it's exciting that we are all being recognized as a team. We have all worked together and everyone is acknowledging that" Taylor Latza states as she talks about how it felt to be recognized.
Moreover, the girls and boys cross country team at Warren faced some challenges with their practice routines, as the trail they usually run on was flooded most of the season. Valerie Flores shares an inside training experience, as the girls (and boys) cross country team were not able to run on their usual trail due to flooding: "It was definitely more challenging, not just for the girls, but also the boys. Lots of visits to the trainer, just in this season more than last year. You really get a view of everything that is going on. It was hard, and I prefer the trail, but you gotta do what you gotta do," 
Though the team had their challenges in routine, Valerie Flores sums the experience and big factor that truly helped the team with winning conference: "I feel like the long hours of hard work every single day has contributed to this [the win] that we've been working since the start of summer. Everybody comes and tries their hardest. It's a team sport and it may seem like individualistic, but everyone comes in support to each other. Even if it is the top runner or number 30 on the team, everyone contributes to that [support]," 
Overall, hard work, dedication, optimism, and teamwork helped the girls win the conference and they are very much proud.