Girls Varsity Blue Devils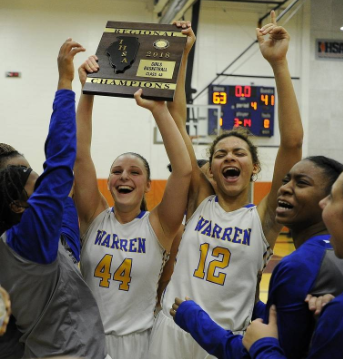 After coming off a conference championship, regional championship, and a tough super sectional loss, there's one big question for the girls this season.
What are the girls going to do without their two division 1 players?
Jordan Hughes, now a guard at Eastern Illinois, and Kaylen Dickson, now a guard at Wake Forest, were 90% of the team's points, rebounds, assists, and minutes in their 2017-2018 season.
So, 2018-2019 asks, whats the game plan?
The current team has 6 returners, and 8 new girls to the varsity team. As a player on the Varsity team, I can report that we are all still trying to get used to our new roles.
The Warren girls basketball team lost their first game of the season 53-25 to the Loyola Ramblers. The girls have been hit with adversity, and have not been handling it well. Currently the team is 2-5.
Our coach, John Stanczykiewicz, despite the tough loss said "One of the big goals was to rub the dew off of them. . .I thought they played really hard and I'm proud of their effort" (Daily Herald).
Though the score board did not show it, the team played extremely hard, and together. Though they didn't make a lot of shots, and that's something they have to work on. But, they hustled, and played for each other. For the next game, the one big thing they knew they needed to changed was scoring. Well, junior Macy Kocen had that under control.
Kocen had 18 points on the night, including 5 threes.
Senior Jataia Harris had a great defensive game holding Taft's best player to 10 points.
The girls won the game in a tight 37-34.
In the locker room Coach Stanczykiewicz, while happy with our performance, wants us to expand off this win and started hoping for a winning streak.
But then the team began dropping like flies. Kelsey Mcgraw, and Jataia Harris suffered sprained ankles. So now we're left wondering, who is going to fill those minutes? This is the main issue they're facing right now.
Seven games into the year, the lady blue devils are very optimistic about their future. While they will miss their division 1 athletes, they also want to move on from their spotlight, and start to shine on their own.
Lets prove what this current team can do!