GOFAN is Where Fans Have Got to GO
GO, FANS, GO!
No seriously, fans have to go to GoFan.com to purchase a ticket for Warren Football games. Warren has changed from cash to digital sales for all sports going forward. Cash will no longer be accepted at the gate, and you will have to show your online ticket from your phone. This new ticketing platform has been set up with the website GoFan where Warren students and staff can purchase a "Blue Devils All Sports Pass" for free. Non-Warren students have to pay a fee of $3 for a ticket, and adults $5. This change has brought mixed emotions upon the Warren community, and the fans gave me their opinion on the new platform.
A fellow Warren student purchased a "Blue Devils All Sports Pass" and told me about her experience navigating the GoFan website.  When asked about the process she said, "The website is very easy to navigate. Once you're on GoFan, you type in your school name and it will bring up all the information for what tickets are available for you to buy. My ticket was free because I am a Warren student and I love that way better than having to pay any money."
Not only does she like that it's free, she likes the fact that it's a contact-free system.  I asked her opinion on it and she replied, "It's a smart decision. With Covid going around, not having to hand someone money makes it one step safer for all of us to enjoy the game." Hearing her satisfied feedback made me even want to buy a ticket, but not everyone feels the same about this new change.
I asked a classmate of mine, who hasn't purchased any tickets yet, what they thought about it and they responded, "I'm not going to get a ticket because I'd honestly rather pay cash or just show my school ID at the gate." They went on to talk about how they felt about the platform set up."I also don't like the GoFan website because it's too high tech and too much work for my parents. It would be easier for them to show up and get their tickets on the spot, rather than order them online and keep them until the game," they said.
Hearing this alternative feedback, I began to wonder, why was a change made in the first place? So I went to the Athletic Department to get the answer myself. There, I interviewed Ms. Belmont, Warren's Athletic Director. When asked about who made the decision to change from cash to digital sales, she responded, "This is the IHSA's new platform for sports for the playoffs, so we figured to hop on the change now to be prepared and get everyone used to it. Even other schools are starting to switch to this new way." I then asked why this change was brought about, she responded, "This is the way ticket sales are evolving with technology. Even when you go to professional sport games, your tickets are on your phone and they get scanned. So, I think with the time we're in right now with covid, people may not want to touch cash or carry cash anymore." She also mentioned that it may be intimidating at first but once people get used to it, they will find it easier, and I agree. As people continue to use technology in this way, they will see how better it is and will enjoy it.
But I want to hear from you. Do you think this new platform will be effective in our community or will it make things complicated? Let us know below.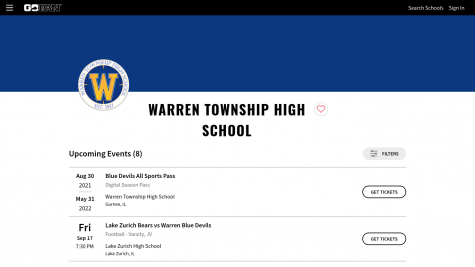 This is the page on GOFAN where you can buy your tickets.                                                 
 picture taken from: https://gofan.co/app/school/IL15712