High School teacher by day, College Professor by night
Tory Burch flip flops, roller coaster enthusiast, hiking lover, spray tans every four days, coordinated outfits, and bright red hair
tied up in a bun. Someone who has a story for everything and loves to communicate. She
certainly takes advantage of when the spotlight is given, Mrs. Otterson is a working mom with
numerous degrees.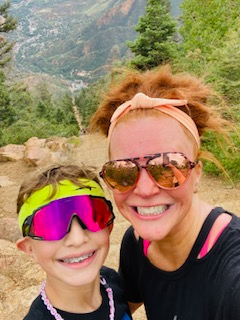 Mrs. Otterson has a daughter named Sorelle who plays volleyball and her son Channing
plays football. At Warren she teaches English III, Honors Lang. and Composition, and
Communications. Mrs. Otterson attended Illinois State University where she majored in English
Education, minored in Psychology, and received a speech endorsement. She's not just a high
teacher, but also a college professor who teaches future teachers in the Elementary Ed and
Special Ed programs for SIU at the University Center. At the University Center she teaches five
classes: Reflective Instructional Practices, Methods of Instructional Practices, Advanced
Instructional Practices, Language, Culture & Learning, and Diagnostic Literacy Assessments and
Interventions.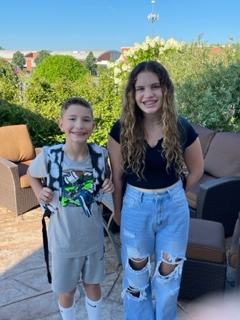 Mrs. Otterson has such a busy schedule with practices and games from her kids, teaching
Tuesday and Thursday nights at SIU, and still balancing her classes at Warren. She does it all!
Her passion for school didn't just stop with attending ISU, she also attended: Dominican
University for a masters degree in Reading, Concordia University for an Educational Leadership
Type 75 degree, Olivet Nazarene University, EIU, and SIU for grad school work. She is an
extraordinary teacher who has received plenty of degrees. When asked what motivated her to
receive many degrees she answered, "I want to wake up each day and be the best educator
possible. If I am going to do something, I want to do it 150%. My mom told me that the world
should be a better place because I was in it and to be discontent with mediocrity, so I took that
seriously. I want to inspire others and be the best at my craft." Mrs. Otterson's mom was clearly a big influence in her education.
Teaching has become a huge part of Mrs. Otterson's life. She was asked how she finds
time for herself, "I fit it in whenever I am not teaching: I work out every morning before school,
read books every night before bed, destress all weekend long, and keep my schedule open on the
weekends for rest as much as I can." Finding time for herself has seemed to not be a problem.
Maintaining a balance between work life and your personal life is always important especially
for teachers who do just as much work as Mrs. Otterson does. She added, "My family fits in
around my teaching schedule much of the time. I am lucky to have help from my husband and
older daughter to run the household and make sure everyone has dinner when I have to get home
after teaching from 5-10 pm some nights." Mrs. Otterson receives an abundant amount of
support from her family. Support is what teachers need after a long day of work at school. Being
a teacher can be extremely draining; many still have to go home and cook dinner or take care of
their kids. As for Mrs. Otterson you can find her enjoying a book, talking on the phone, or
watching Netflix after a long week of school.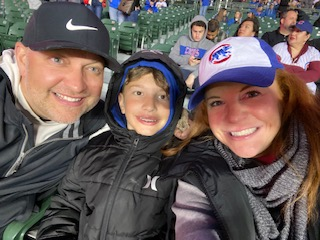 Mrs. Otterson is a woman who has a passion for teaching. Ms. Connor, the lead English
teacher, mentioned, "Mrs. Otterson's strongest impact on our department has got to be her
contagious passion for teaching. When she and I are talking about anything that involves school,
she will say, "I mean you know me. This job is my life. I live for this job!" and she isn't
exaggerating as she is also a professor outside of her teaching job here at Warren. I know when
she says this, she isn't talking about the innumerable hours she spends preparing and even
teaching. She's talking about her unwavering passion and love she has for establishing
relationships with her students that allow her to be the teacher that she is." It's safe to say anyone who knows Mrs. Otterson can confirm the passion she has for teaching.
A former student of hers Dayanara Jaime was asked to talk a little bit about Mrs. Otterson
and said, "She's always full of energy and ready to conquer anything. You walk into her
classroom and immediately feel the positive energy. The good energy we all need while being at
school because sometimes it's filled with negative people." It's evident the effect she has on her
students. Mrs. Otterson described herself in one word, exuberant. "Exuberant. It means filled
with lively energy and excitement. I am excited and filled with energy almost 24/7. I wake up
this way and go to bed this way. I am a night owl and a morning person. I have energy when I
come in and energy when I leave. I hope I continue to have this for the remainder of my career
and hopefully for the rest of my life." Mrs. Otterson is definitely the teacher we all need
throughout the school day to keep us motivated. Her optimistic personality not only helps her,
but also her students.
A few years ago she received an award for being the most valuable teacher. Regarding the award she
said, "In this profession, unlike many others, we don't win trips, we win plastic trophies and
receive thanks from our students. It is the highest form of thanks, though, to know that you've
changed someone's life. That is why I maintain that this is the best job in the world: we get the
privilege of changing lives and inspiring someone's future life goals and career. I do not think I
would feel truly fulfilled by doing anything else." She found enjoyment in educating others just
the way she found it with receiving a great amount of degrees. Mrs. Otterson earned the most valuable
teacher award because she once sat behind a desk and now stands in front of the class to guide
students towards success.