Hollywood Homecoming 2022: An event you won't want to miss
It's that time of year Blue Devils! Homecoming 2022 is quickly approaching and here is everything you need to know about one of WTHS' biggest events of the year. To begin, those who do not already know, the theme for this year's homecoming is Old Hollywood and will be embodied throughout the week at various school events.
During the whole week, WTHS will organize a spirit week that will have a different theme every day following the word Oscar. Monday will be "Old town road;" Tuesday will be "Stay afloat;" Wednesday will be "Classic decades;" Thursday will be "Anything but a backpack;" Friday will be "Rep the devils."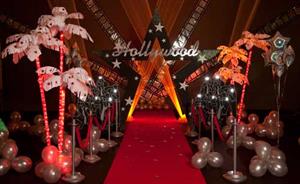 On Tuesday September 20th, the Powderpuff flag football game will be held at the football field with the freshman versus sophomore game at 6:30 and the junior versus senior game at 7:30. This event is free and everyone is welcome to come watch our Lady Devils battle it out on the field.
An all-school pep rally will be held on Wednesday at the football field for all Warren students to attend for free. Come decked out in your class color and be ready to fight for the spirit stick!
Don't forget to attend the homecoming football game at the football field on Friday, September 23rd at 7. Let's fill the student section with gold and beat our conference rivals, the Lake Zurich Bears!
The homecoming parade is also a huge hit each year. This event takes place at 9 AM the morning of the dance and showcases Warren's sports teams, homecoming royalty, and other organizations in our community. The parade will also carry out the WTHS Homecoming "Devils in Hollywood" theme. The parade will start at the Gurnee police department and run up O'Plaine Road.
The dance will take place on September 24th from 6:30-9:30 PM at the O'Plaine campus. It will have both indoor and outdoor spaces to socialize and dance with food trucks, dance floors, speakers, a photo booth, and tables to eat, and inside the main gym will have a DJ.
Homecoming tickets must be purchased by September 16th and are $25 per ticket. If your ticket is not purchased by that date, the price will be bumped up to $50. With this ticket purchase, you will also receive a Warren-themed Croc charm. Additionally, T-shirts are no longer included with the purchase of a homecoming ticket and can be bought separately. They will be priced at $10 with various different sizes and should be purchased by September 16th. It is important to note that only WTHS students and alumni (under the age of 21) are allowed to attend the dance, and no outside guests will be permitted. 
Finally, this whole week of events is brought together by Student Council which is run by teachers, Mrs. Lainio and Mrs. Desiron, so huge thank you to them for these amazing opportunities and prepare to have a great time!