Homecoming Queens of 2018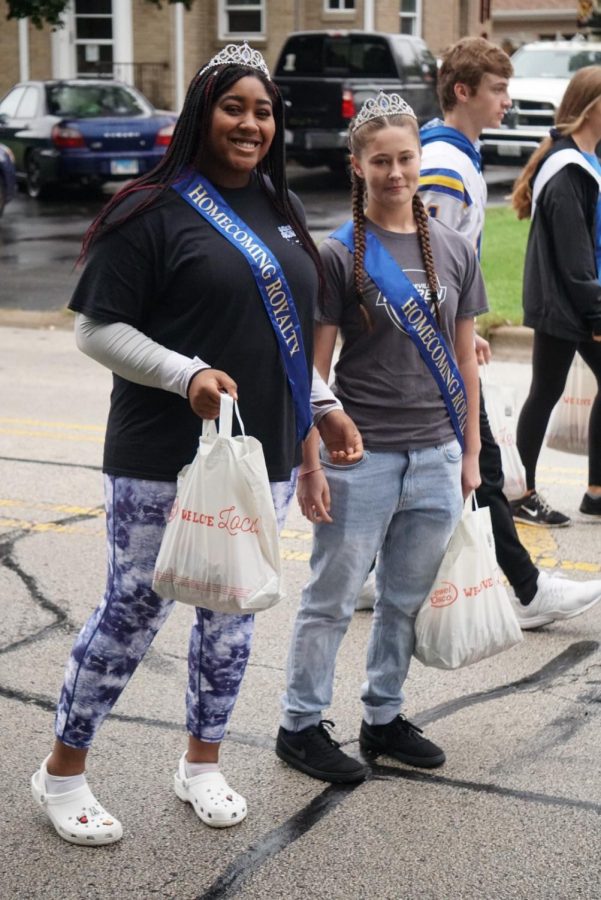 A pivotal step was taken by Warren Township High School on the night of the Homecoming football game versus Lake Zurich, as Alana Turner and Kennedy Osborne won the title of the 2018 Senior Homecoming Queens. For the first time in Warren's history, the typical mold of homecoming royalty was shattered, making way for a more inclusive future.
Rather than hiding in the background, the couple proudly stood front and center. Turner comments on the past trends of homecoming royalty, "it's usually… [a] guy and girl," with popularity as a key facet of their platform. Acknowledging her and Osborne's unprecedented campaign, Turner notes, "it stands out that we're two girls." The couple used their singularity to their advantage, emphasizing the overarching significance of the race; Turner remarks that they hoped to "show other people not to be afraid to run [for court], even if they're different."
How did they achieve this win? According to Osborne, by handing out "LOTS of candy." In all seriousness, the couple had to work at their campaign throughout the long, nail-biting suspense of homecoming season. Spreading the word on Snapchat and asking friends to publicly support the cause was a popular strategy for this year's homecoming court, and our Senior Queens followed suit.
When the time came to announce Warren's 2018 Homecoming Court, Osborne and Turner were not expecting what the night had in store. Osborne claims she was "shocked" at the result, and Turner reflects that she had doubted their chances of winning due to the popularity of the other nominated couples. Regardless, their arduous efforts were rewarded in the form of two crowns and two sashes, which embodied the gravity of that moment.
Their victory will live on as the first of its kind, and hopefully the first of many. In light of their experience, the couple stresses the importance of authenticity and bravery. In the words of Turner, "Don't be afraid to be yourself." Osborne shares a similar message by encouraging future Warren students not to be afraid to run – not in spite of their differences, but because of them.
"
Don't be afraid to be yourself."
— Alana Turner
In our diverse school, homecoming royalty ought to reflect the variety of the students it represents. The flags in our halls hang parallel to our value of strength in diversity. Though Warren has, admittedly, witnessed divisive actions in the past few years, it is moments like these that replenish the hope and unity of Warren's student body. One student can make a decision to divide, but that does not define us. This majority vote, this democracy at its finest, this shared choice we made is a more accurate representation of who we are. Our true colors shone through on that rainy eve of Homecoming, when our dreams were made reality through the coronation of two Queens.