This Be March Madness, Yet There's Method in It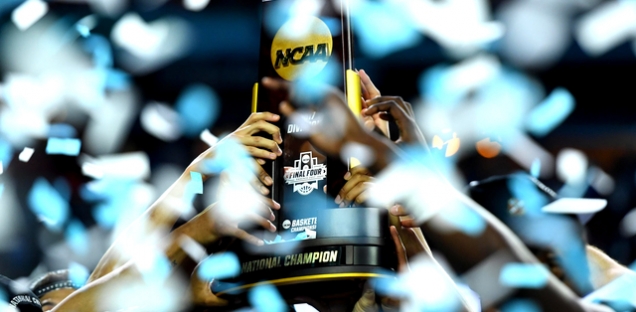 Yes, I'm aware.  Number one ranked Villanova hasn't lost since late February, and in fact, they've won by double digits in every game since late February as well.  Their starting five all racked up double-digit points in its rout of the #1 seeded Kansas over the weekend.  The Wildcats tied the record for the most three-pointers made in a Final Four game… in the first half.  The line against fellow top-seeded Kansas was five.  Against Michigan tonight, it's seven.  'Nova beat Kansas by sixteen, and the game wasn't even that close for most of it.   How will Michigan fare?  No reasonable person expects them to win, right?
On the other hand, Michigan was down to the tournament's underdog and postseason surprise team Loyola University come halftime.  Loyola was an eleven seed.  The highest seed Michigan has beaten in the tournament was in the Round of 32 against a six-seeded Houston.  Houston outplayed Michigan for most of the game thanks in large part to Rob Gray, Jr. a very good point guard.  The Wolverines needed a longshot buzzer-beating three-point prayer from a freshman off the bench (Jordan Poole) to win the game after some fortunate missed free throws from the Houston Cougars.  It took a miracle for Michigan to even reach the Sweet Sixteen, and they haven't played a team ranked as high as Houston since that memorable matchup.
Oh yeah, who can forget?  Now Michigan won't just have their hands tied with a very good point guard, it'll be the best one in the country.  Stevenson alumnus and Lake County wonderboy Jalen Brunson captains the vaunted Villanova team with an offense that is both historic and revered.  He just scooped up the Associated Press's College Basketball Player of the Year and earned the most votes for the AP's All-America First Team.  He started as a freshman on the Villanova team that won the NCAA tournament just two seasons ago.  The former Illinois Mr. Basketball, Illinois state champion, NCAA champion, most outstanding collegiate player of the 2017-2018 season will lead his touted Wildcats squad against a discounted Michigan tonight.
Fittingly, the time the Michigan Wolverines lost, it was to the Wildcats.  Northwestern, that is, which is a team that didn't even make the NIT tournament much less the NCAA tournament and easily trounced Michigan for the Wolverines last loss – in early February.  I suppose one piece of data on Michigan's side is that they have the longest active winning streak in Division One's men's basketball on account of winning fourteen consecutive games.
Star big man Moritz Wagner just demolished a mid-level graded freshman center in the Final Four, and he became the first player to accrue at least 20 points and 15 rebounds in the national semi-final game since 1983.  Who is the last player to accomplish this feat?  None other than Hall of Famer, NBA Great, two-time NBA champion, and NBA MVP Hakeem Olajuwon.  Of course, Wagner is no Olajuwon.  Heck, he's probably never going to suit up for an NBA game.  However, this doesn't diminish the career-defining accomplishment he earned against Loyola this past Saturday.  He etched his name alongside a legend the likes of Hakeem the Dream.  If he is able to recreate this dominance, who knows what could happen tonight?
Now that I've yammered on with nearly five hundred words of context, the outcome of the game seems settled, doesn't it?  Michigan had the easiest road in the history of March Madness to arrive at the championship game as the team never faced a five seed or better.  Villanova is led by a stellar, seasoned upperclassman who not only is the best college basketball player of the year but is also accustomed to sipping victory's sweet nectar at every level of competition.  Villanova is a premium tier, overpowering unit while Michigan is the same club that began March as the fifth seed in its own conference tournament.  All of these factors are decidedly interwoven and naturally rattle in the back of experts' minds when they anticipate the action that tips off at 8:20 tonight.  Perhaps this is why twenty-four of the twenty-five college basketball experts at ESPN picked Villanova to hoist the championship later today.  Michigan doesn't stand a chance.
Not quite, I think they do.  I expect Michigan to upset these lauded Wildcats tonight; in fact, I believe Michigan will drain more threes than the record-breaking 'Nova lineup will.  Michigan will embed its physical defense into the game's progression from the first minute of play.  They will shock the world.
Sure, I'm a homer.  I'm a high-schooler who last played organized basketball for the freshmen 'B' team.  I haven't watched enough 'Nova basketball to understand their personnel.  Hmm.  Well, I remember watching a Stevenson basketball game before the freshmen B game started a few years back.  Jalen Brunson squared off against Warren at home in Lincolnshire, and he was held to single-digit points until late in the game.  Containing Brunson is hard, but it can be done.
If my high school can do it, my college can do it.  I'm eager to watch the Wolverines wrangle up the Wildcats, pin them against the wall, and emerge victoriously.  My prognostication is improbable and highly improbable at that.  Michigan's slow pace and defensive focus have no chance of edging out a star-studded #1 seed in the championship, especially considering that the Wolverines hadn't beaten a #1 or #2 seed during the entire regular season.  The only top seed they defeated was Purdue (#2 seed in the NCAA tournament), and it took them all of three tries to win one.  Fair enough.
We'll see who can grind out a win in April tonight.  I'm confident that it'll be the team sporting maize and blue.
Philadelphia greased its lampposts earlier today to deter would-be climbers late tonight and early tomorrow morning following a probable Villanova win.  Once all is said and done, Philadelphia may be better served conserving its grease.  The flight back to Philly with a Wildcat team holding its tail between its legs may result in a bumpy ride, so that grease ought to be applied to those tired plane wheels once they touch down instead of some urban street poles.
The enraptured throng of students will prance around Ann Arbor tonight, not Philadelphia.  Tritely, you can mark my words, and they are as follows: Go Blue.
-April 2nd, 6:00 PM