Met Gala 2023 – Celebrity Fashion & Cats!?
On Monday, May 1, 2023 the 75th Met Gala was held in New York City. Its main focus was Karl Legerfeld's fashion influence and style from his life that consisted of his time as a designer with Chanel. He was known for primarily wearing black, white, silver, and red tones in his outfits. Additionally, he often incorporated fans, furs, and sunglasses in his looks.
Top 10:
1.  Tems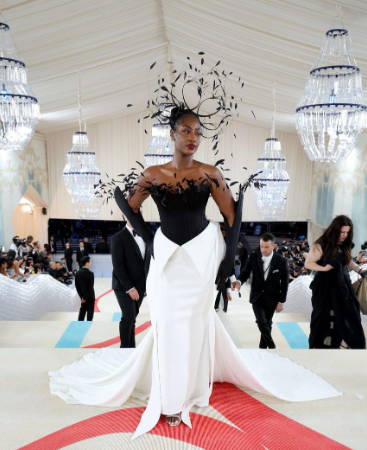 Nigerian singer-songwriter, Tems, wore an elegant, sleek black and white dress by Robert Wun. She topped it off with a magnificent Melissa Kaye feathered headpiece that will be remembered in Met Gala history. The uniqueness of this strapless dress and the styling of the headpiece truly made everything look like a masterpiece. The alternating colors of the top of the dress with the black gloves and the white bottom of the dress with the open-toed heels was a phenomenal contrast. The lovely white train of the dress looked impressive with the headpiece over it. Tems' makeup and bun allowed for more attention to be drawn towards the beauty of the dress. With this spectacular look, Tems has proven to her fans time and time again that not only is she an R&B singer on the rise but also an aspiring fashion icon.
2.  Elle Fanning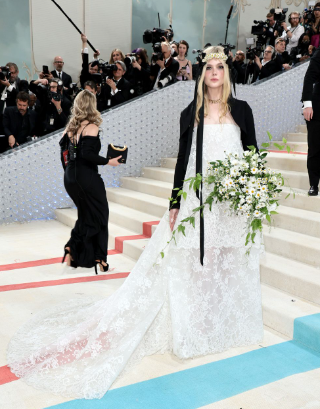 Actress, Elle Fanning, wore a Vivienne Westwood white lace bridal dress. She paired it with a hairpiece combination made of ribbon and white flowers. Fanning carried a beautiful bouquet of fresh white flowers to add to her marvelous look. She left her hair down underneath the flower headpiece. From Cartier, she wore a gold choker which complemented the color scheme of her daisy flowers and white dress. Fanning contradicted the light colors by also wearing a black bolero jacket that trailed far past her knees.
3.  Michelle Yeoh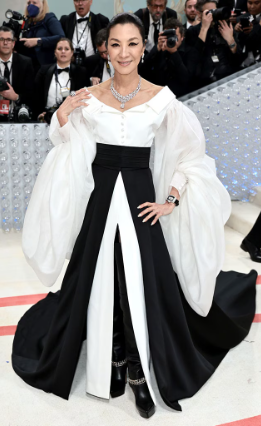 This year's Oscar winning actress from 'Everything Everywhere All at Once', Michelle Yeoh, followed the Met Gala's theme perfectly by wearing a classic tuxedo-style gown designed by Karl Lagerfeld himself. The dress' long, silky sleeves made for a special touch on the look of the dress, with buttons near the wrists. Yeoh's top piece of the dress also incorporated a fashionable white button-up. The rest of her dress had slits with multiple layers full of alternating whites and blacks, including a train of black fabric. Yeoh's knee-high black boots with the silver lining transformed the look to appear more regal and sophisticated. Finally, the silver Cartier earrings and necklace matched with the upper portion of the dress.
4.  Conan Gray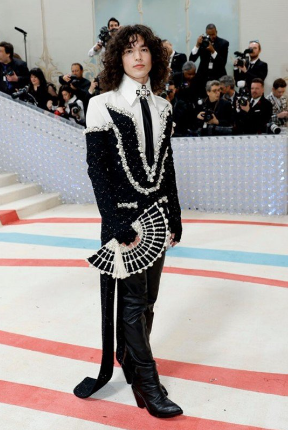 Indie pop singer-songwriter, Conan Gray, wore a stylish Balmain suit. He accomplished this look by wearing an off-the-shoulder redingote jacket with embroidered pearls. The colored shirt and detailed fan did an excellent job at representing the Karl Lagerfeld theme. The suit designs were not to be missed, and the shiny pearls added an overall dramatic touch to the look. Additionally, the black and white star at the top of the collar looked fabulous with the tie. Further, the black train from the jacket incorporated some creativity into the appearance of the suit. Not to mention Gray's curly, long hair looked breathtaking in the black suit. At last, the black leather boots altogether matched with the leggings of the suit and transformed the outfit into a fashionable look that Karl Lagerfeld would've greatly approved of.
5.  Stephanie Hsu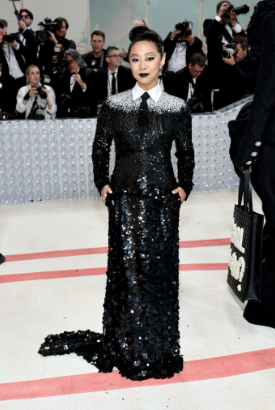 New emerging actress from 'Everything Everywhere All at Once', Stephanie Hsu, wore a gown from Valentino. The dress started with a white collar at the top and quickly changed into black with an ombré sort of effect due to the placement of the tie. Apart from the top, the rest of the dress was extremely sparkly with all the sequins sewn together. Hsu's makeup look was stunning and absolutely added to the appearance of the look. Her white eyeshadow, eyeliner, and black lipstick were an incredible addition to the gown. Pockets were incorporated into the dress as well, and Hsu's short hair style made the dress have elements of both masculinity and femininity.
6.  Sean "Diddy"
Sean Love Combs, also known as "Diddy" or "P. Diddy", wore from his own clothing line, Sean John, in all black as his tribute to Karl Legerfeld. He arrived with Yung Miami in a puffy padded coat covered in black roses, layered over a sharp studded jacket and button-down with black pants to complete the all black look. His accessories only enhanced his look more, adding diamond stud earrings, layered chains, and dark sunglasses and gloves too.
7.  Janelle Monaé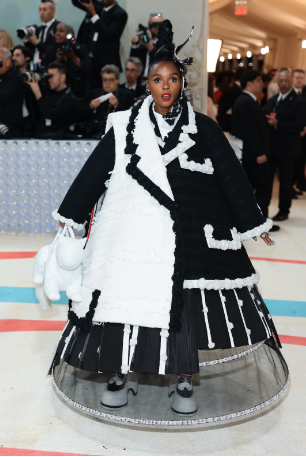 Singer Janelle Monaé's outfit was designed by Thom Browne accompanied with REZA jewelry. They connected with the black and white theme and used a wired corset to create the structure of the dress with platform sneakers. Over it, she wore a black dress made of tulle and a black and white coat as a reference to when she used to wear black and white tuxedos at the beginning of her career. This outgoing look is accompanied with her adorable cat bag inspired by Karl Legerfeld's cat, Choupette.
8.  Anne Hathaway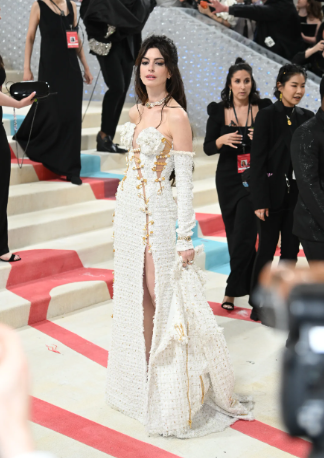 Actress Anne Hathaway wore a white Versace gown accented with yellow pins. The dress was made with tweed, the common fabric Karl used, and the strapless dress featured cutouts down the top, up to the thigh, and all the way from the top to bottom. The cutouts were held together by beautiful Italian fashion house's gold safety pins. She adds with it a dazzling diamond choker by Bulgari, white platform pumps, and tweed opera gloves.
9.  Maya Penn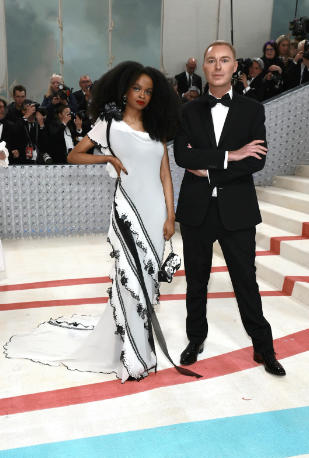 Entrepreneur Maya Penn went for a more simplistic style with a white dress from Coachtopia, a Gen-Z inspired sub brand. Coachtopia and Maya want to incorporate and showcase Gen-Z style, while also advocating for environmental activism with her dress. Her dress focuses on sustainability and fashion production in an Eco-friendly manner. This event served as an incredible opportunity for her to showcase the innovation of Coachtopia and advocate for her passion in environmental activism.
10.  Alex Newell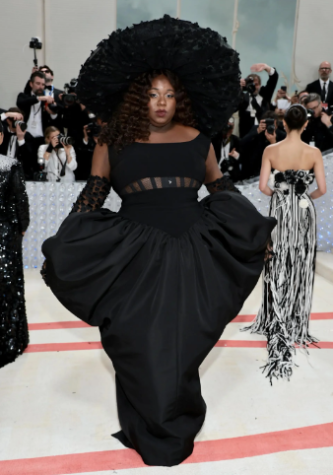 Actress and singer Alex Newell, known for her role as Unique Adams in Glee, wore a silk black dress from Christian Siriano. It's structured so that it gets wider at the waist and comes down at the bottom, creating an almost heart-shaped skirt. Following that, she wears an unforgettable floral covered hat and matching transparent gloves.
Dedicated to the cats:
Jared Leeto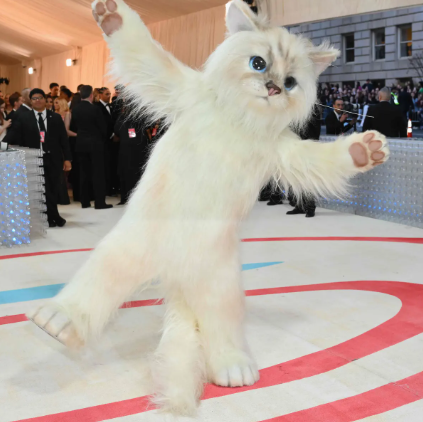 Actor and musician Jared Leto known for his variety of acting roles took the theme of Karl Legerfeld seriously. Along with his outfit designed by Karl Legerfeld himself, Leto focused on the values most important to Legerfeld, his cat Choupette. Leto went all out for his outfit, wearing a full cat costume replicating Legerfeld's blue-cream tortie Birman cat. Leto honored this stunning cat with huge fluffy paws, whiskers on the face, and detailed blue eyes with blue eyeshadow to match. This is truly one of the most iconic outfits of the night.
Lil Nas X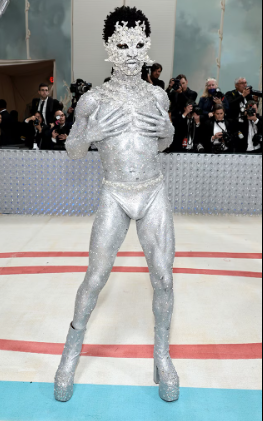 Rapper Lil Nas X decided to also pay tribute to Choupette the cat being covered head to toe in dazzling crystals from Dior. Lil Nas X wore crystals all over his face, covering every inch, even his nose and lips, with an impeccable amount of detail. He shaped the crystals into the shape of whiskers, wore sharp teeth, and had crystal-coated claws at the ends of his gloves, completing the whole cat look off with a furry finish. Lil Nas X's costume was surely a-meow-zing!
Doja Cat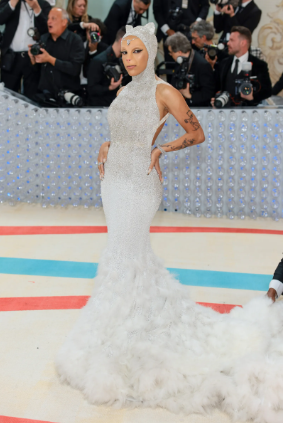 Rapper Doja Cat wore an astonishing backless gown by Oscar De La Renta. In honor of Karl Legerfeld's infamous cat, Choupette, Doja Cat jumped on the trend by wearing a silver hood attached to the back of the gown to mimic cat ears. Her feather train was an elegant addition to the gown. Doja Cat completed the look with realistic prosthetic feline makeup. Doja "Cat" purrrfected the theme.
https://www.vogue.com/slideshow/met-gala-2023-red-carpet-live-celebrity-fashion 
https://www.today.com/style/met-gala-theme-2023-karl-lagerfeld-meaning-rcna66346