Movie Review // The Peanut Butter Falcon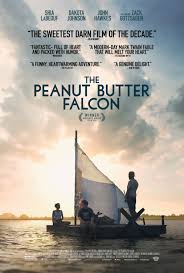 The recent movie, The Peanut Butter Falcon, is a truly beautiful and heartwarming adventure film. An emotional roller coaster, you will find yourself smiling, laughing, and even crying along with the story. With a 95% rating on Rotten Tomatoes, this movie does not disappoint. It explores the themes of love, passion, and friendship while empowering and inspiring the viewer. 
To begin with, The Peanut Butter Falcon follows a young man with Down syndrome, named Zak (played by Zack Gottsagen), on his journey to chase his dream of becoming a professional wrestler and defying stereotypes. He breaks free from the confinement of the nursing home where he lives with the goal of attending the wrestling school of his hero, the Saltwater Redneck. On his way, he crosses paths with a man named Tyler (played by Shia LaBeouf), who has a similar desire to escape the troubles he faces in the crabbing business. Together, they confide in each other and discover the power of friendship. Tyler helps grow Zak's confidence by teaching him how to swim, fire a gun, and more. Their spontaneous adventure has many exciting twists and turns, drawing the viewer into the plotline. 
Additionally, the setting and soundtrack beautifully accompany the story. Their journey is set in the coastal southern woodlands and bayous, complemented by a banjo-infused soundtrack of twangy country and bluegrass music. 
If you love a great feel-good movie, I recommend The Peanut Butter Falcon to you!