Nisa Cress – Musical Miracle
Walking into the Almond gymnasium, Symphonic Band I sits in a semicircle in front of the bleachers, where a sizable crowd has gathered to watch them perform. It's the Live Arts festival, where works from all over the county are presented in many forms. Paintings and drawings adorn the walls in the main hallway, accompanied by various sculptures, pots, and even some new Pringles flavors lovingly provided by graphic artists. In the gym, however, theatre, comedy, and music are presented throughout the night, leading us back to Symphonic Band I. Within that semicircle, playing their French horn, sits senior Nisa Cress, a musical prodigy. Nisa, otherwise known as Andy, has been captured by music for as long as they can remember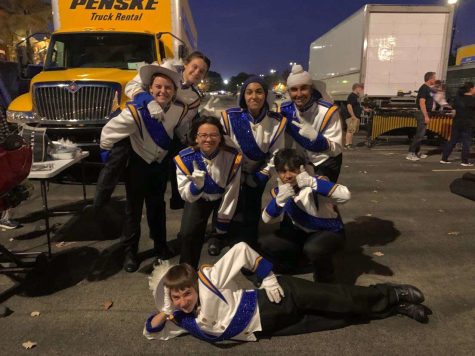 "My mom told me she would play Mozart for me in the womb," They comment with a laugh. Their parents had an integral part in helping Nisa discover their love for music by providing them with classical piano lessons at just five years old, though they did not stick with piano lessons for long. While piano isn't their main instrument, they note that they've retained that knowledge and can still play basic piano pieces with general ease, as well as write their own music on piano. One of their songs, Gray, is a piano piece that studies how the dreary, wintery world around them created a melancholy and frankly gray tint to their world at the time it was written.  While piano may not have been what really began Nisa's love for music, band certainly did. Throughout all of high school, Nisa has been a part of both competition marching band and symphonic band, though they prefer symphonic band because they get to focus more on the actual musicality of the pieces they are learning as opposed to the strictly regimented movements required for competition band. Regardless of what is the focus, Nisa loves band entirely, and it takes up the majority of their time outside of school, with the exception of various crew positions for the Warren Theatre program. Though band is especially prevalent in their life right now, Nisa began band in elementary school, and after struggling with the trumpet, discovered their most prevalent and favorite instrument to play: the French horn.
"I have a love-hate relationship with it," they say. "On one hand, I'm proud of how far I've come learning how to play it, but on the other hand, it is so frustrating sometimes." Despite the fact that they struggle with music, they noted that it is their special interest. A special interest is a topic that completely envelops a person's thoughts and guides many of their actions; neuro-divergent people tend to develop special interests. These interests, or hyperfixations, can last anywhere from a week to years–in Nisa's case, as they have a high suspicion they might be on the autistic spectrum, it's been nearly their whole life.
"I think it's really cool that I've been able to do what I can do," Nisa says. "As someone who's both autistic and a minority, I have had hardships come with my journey through music, but I'm still successful." Because of the fact that Nisa doesn't exactly think like everyone else, as well as the fact that they are nonbinary and of Asian descent, they are constantly aware of how lucky they are to be in the position they currently are in. The music industry is a very competitive field as is, and when other uncontrollable factors are added in, putting yourself out there and being recognized for the art you create can be a taxing, arduous process.
"Nisa is one of those rather rare students that I could see as a very successful professional musician." Says Kurt Gros, a band instructor at Warren who has been working with Nisa since freshman year. Nisa regards Gros as one of her favorite teachers and has had loads of fun working and learning with him. "Despite their insane musical ability, Nisa has not a hint of arrogance…they are humble, listen to all viewpoints, and are always helping others achieve in music."
These truths speak volumes to Nisa's good natured character as well as their ability to persevere through both unexpected and unfair difficulties. They have a vast web of friends, all of whom see Nisa as a passionate, considerate, and overall friendly person.
"They showed me the time of day when most others didn't, I felt like someone around them," says Jehan Cabuay, a junior at Warren and one of Nisa's best friends. "My friendship with Nisa serves as one of the best and healthiest bases of friendship I have." He says. While the two have previously dated, that history only proved to strengthen their current friendship. Jehan says he loves their conversations, as does junior Lilly Parrot, another one of Nisa's closest friends. 
"Nisa is so creative and such a joy to be around, and also, they've helped me find myself and feel more validated in my identity and emotions." Lilly remarks with gratitude.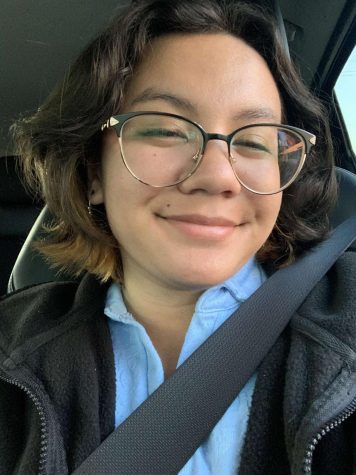 "Nisa approaches every task and challenge with tenacity," says Janice Zimmerman, a social worker and co-sponsor/director of the Theatre Department at Warren Township High School.  "They are not content with mediocrity. They excel." Nisa, while spending hours focusing on band, their own music, as well as other music-centric extracurriculars, has found joy in helping out with the technical side of theatre. As a stage manager for Warren's production of Julius Caesar, Nisa was tasked with being able to keep all actors, other crew members, as well as their own responsibilities in check during rehearsals–stage management is essential to the running of a show, and without the stage management team, a show does not go up. "It is rare to be able to give a task to a student and trust they will see it through from start to finish." Zimmerman notes with admiration. 
Last year, Zimmerman made a post on the Drama Club's Canvas page about IHSA auditions for their production of Shrek: The Musical.  "I've never been able to be in the pit orchestra because I'm always involved in the production," recounts Nisa. They had happened to stumble upon the post, and saw this as a perfect opportunity to be able to learn and play music for the show, not just work backstage with the crew. The audition process itself, Nisa says, wasn't too difficult–they explained how they had virtually no competition, regardless of their talent, as they were the only horn player on the audition list. The cast and crew of IHSA's Shrek began rehearsing in August, and Nisa says the most fun part about this rehearsal process has been creating friendships with the different musicians around them, though it was not what they had originally anticipated when envisioning the process itself.

"I'm excited to actually perform–going down to U of I, getting rigged up with all the technical stuff–I'm gonna have a little monitor, and a little earpiece!"
Nisa's joy, passion, and excitement is clear in nearly everything they talk about. As one of their good friends myself, I know personally how kind and caring Nisa is, as well as how much joy I get from being able to just sit down and have a conversation with them. Erika Relayson, a junior at Warren and one of Nisa's closest and oldest friends, shares the sentiment.  "Nisa is a genuine, wholesome soul who never puts down an opportunity to demonstrate their love and affection." She writes. "They is a shoulder to cry on and an ear to listen."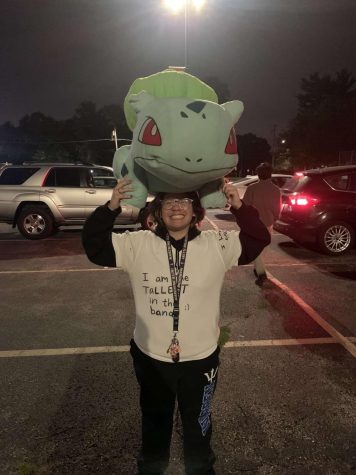 Nisa plans to have an EP out by the end of the calendar year, and a full album ready to go by the spring–if you want to find their music, search "analisa cress" on Spotify, or click the link here: https://open.spotify.com/artist/4qhXcxF4xER0GEvsPhs5IH