Retiring Band Director- Christopher Jenkins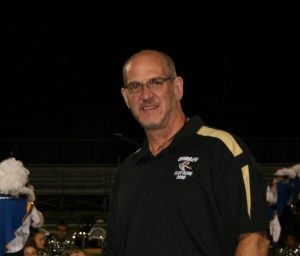 Mr Jenkin's education began at Indiana State University where he earned a Bachelor of Science in Communications. He also continued onward to receive a Bachelor of Arts from Northeastern Illinois University in Music Education and attained a Masters of Music from Vandercook College of Music in Music Education. Before his undertaking as an educator, he worked for five years at Lutheran General Hospital, in Chicago, in the Division of Psychiatry. Throughout his life, his association with his high school band and college bands developed into travelling as a member for the Phantom Regiment Drum and Bugle Corps, a World Class competitive junior drum and bugle corps in Rockford. His grounding inspired him to raise students in this enriching experience. 
Mr. Jenkins has spent 30 years teaching at WTHS! He is proud of all of his students and their achievements. It is unforgettable that hundreds of his students were able to advance and perform at the Illinois Marching Band Championships 13 times!! To top this all off, the marching band also achieved multiple Grand Champion awards at regional contests and pulled off numerous grand performances at Disney parks throughout the years. In the span of their accomplishments, there have been so many funny and special moments in the band room, on the field, and on the trips that make it so much more memorable! 
He will definitely miss his brilliant students and teaching colleagues, but along his journey, he has learned that you are a better educator if you are more than just a teacher. You need a couple nights off a week. You need to keep your weekends open and take up a hobby or two. Students should also take up this approach. Be more than a student. Expand your interests. He's also learned that it's important to wear a hat and sunscreen for band camp and wear warm clothes for every football game! Most importantly, he's learned that kids don't care how much you know until they know how much you care. He would like to thank his family, friends, teachers, mentors, parents, and especially his students who ultimately shaped his career as a music educator. He hopes to continue teaching in some capacity in the future and uplifting kids in the realm of music!