Retiring Special Education Teacher, Vicky Pogue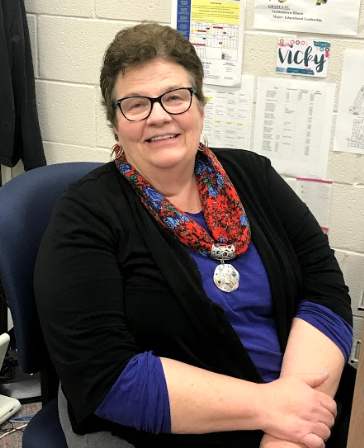 About Vicky Pogue:
"I attended college at Western Illinois University for undergrad, Northeastern Illinois for masters, and I've been at Warren for 16 years. I started out as an Early Intervention Special Education Preschool Teacher in Quincy, IL. Then, I took some time off to stay home with my family and then I taught Middle School in Lake Forest. I really wanted to work with high school students so came to Warren when this job opportunity came along.
For my retirement, I plan to go to lots of baseball games – spring training, major league, minor league. I love baseball and am a long-time St. Louis Cardinals fan. I also plan to move to Indiana to be closer to my daughters and some of my grandchildren.
I will miss teaching students with multiple disabilities. This requires continually seeking new ways to instruct and being able to improvise on the spot when it's not working. I enjoy that challenge and my days are rarely boring. I will definitely miss the diverse and caring Warren community, and my special education colleagues, especially my partners in teaching in the Educational Life Skills Program. They have been my second family.
I also have had the pleasure of co-teaching a music class with Mr. Tribley for our Life Skills students for several years. It has been a highlight in my day. In my high school and college years, I was always in the arts – drama club, music ensembles, school newspaper, and art club.
Warren has something for everyone and getting involved is important. The clubs and activities are what makes high school fun!
There are many meaningful experiences I have had with Warren students, but one that stands out is the Spring Basketball Game featuring our Life Skills students. It is so touching to see the entire school come together to cheer the students on and give them their moment in the spotlight. It is one of those "feel-good" moments that stay with you.
One piece of advice I want to give students is that quality matters.
We live in an age where information and entertainment are available instantaneously. Consider how you are spending your time and what you are seeing, hearing, and learning.
In fun, education, and work we ultimately become the sum of what we experience.
I hope Warren continues to grow in its inclusiveness. We are a diverse demographic that in the past was not always as accepting of differences. I have seen that improve. Learning to appreciate and celebrate our different cultures, talents, and abilities can only make us better."