Ruth Bader Ginsburg: Her Life and Impact
On Friday, September 18th, America was rocked with the news of the passing of political and cultural icon, Ruth Bader Ginsburg. She was the second woman to ever serve on the Supreme Court and a trailblazer for women going into politics. In her time as a justice, she fought hard to protect women's rights and is heralded as a feminist figure. More importantly, she is a role model to many, though her less progressive rulings have also led some to have mixed feelings or resentment towards her.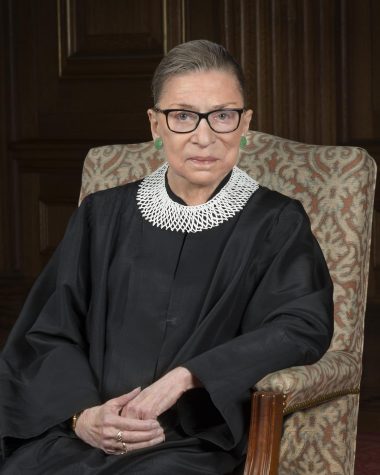 Ginsburg grew up in a poor neighborhood in Brooklyn and cited her uneducated but hardworking mother for teaching her the importance of independence and good education. She worked hard in school and made it through Harvard law school, despite facing sexism all the while. Despite the discrimination as well as having to balance being a new mother, she excelled and became the first woman on the Harvard Law Review. Ginsburg transferred to Columbia Law School to stay with her husband, who took a position at a law firm in New York, and she graduated first in her class. 
She went on to clerk, teach as a tenured professor, and argue six cases (and win five) on gender equality before the Supreme Court, as well as work on a district appeals court. As a litigator before SCOTUS, she had worked to free both sexes from roles that society gave them. For example, by saying a widowed father should still get welfare benefits because he would be raising his son, she indirectly caused justices as well as people all across the nation questioning the long held belief that child rearing was solely a woman's job. Bill Clinton admired her intellect and political skills and nominated her to the Supreme Court in 1993. Weeks later, she was easily confirmed by the Senate 96-3. She served on the Supreme Court for 27 years up until her death despite facing cancer and other health issues multiple times.
Throughout her time on the Supreme Court, Ginsburg's strong voice never waned. She spoke in favor of abortion rights and fought against sexism. In 1996, Ginsburg led the court in requiring a Virginian state funded military school to accept women for admission, writing that "generalizations about 'the way women are'…no longer justify denying opportunity to women whose talent and capacity place them outside the average description." The ruling's impact is still felt nationwide and remains one of the most important majority opinions she penned.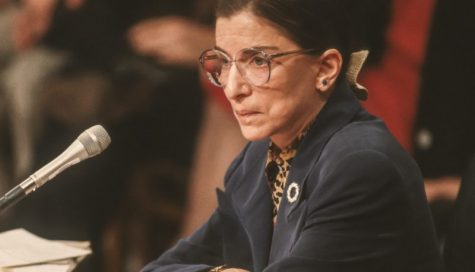 However, Ginsburg's fiery dissents are often what receive the most attention when looking back at her career. In 2003 gender discrimination case Ledbetter v. Goodyear Tire & Rubber Co., Lilly Ledbetter sued the company she had worked at for 19 years after discovering she had been paid less than her male coworkers. SCOTUS ruled 5-4 in favor of her employer stating that because her claim was made after a 180 day charging period she could not sue. This prompted a blistering dissent from Ginsburg who accused the eight male justices of being indifferent or unable to comprehend the way that women can be victims of pay discrimination. She declared the ball was now in Congress' court. The impact of the dissent and her call on Congress to act worked and Congress voted to overturn the court's decision. Obama even signed a fair pay act named for Ledbetter as his first bill upon coming into office. Her scathing dissents in cases about topics like voting rights and accessibility to contraception are also often looked at as indicators of her legal prowess and fearlessness when fighting for justice.
Though long championed by liberals as a hero of American democracy and justice, Ginsburg faced criticism from those further on the right who disagreed with her views on topics like abortion as well as those further left who believed her views on Native American rights, campaign finance, criminal justice, and race made her more moderate/centrist rather than left leaning. Her varying rulings regarding rights of the incarcerated, such as dissenting when the court upheld 23 hour solitary confinement but agreeing with a potential lifetime ban on visits for prisoners found guilty of substance abuse violations received mixed reactions. Earlier in her career, she ruled against a $600 million judgement for the Navajo Nation after obvious corruption in the Department of Interior and wrote opinions that harmed Native Americans and were dismissive of tribal interests. Upon receiving harsh criticism, her views had changed somewhat, but the damage had been done. Her hiring of only one black clerk throughout her entire 27 years on court, as well as her criticism of Colin Kaepernick's national anthem protest, have also rubbed many the wrong way and have often been cited to challenge the narrative that continues to frame her as a progressive and infallible politician. In my opinion, the reality is that we should not idolize people in office especially to the point that we fail to acknowledge the damage and harm they have caused certain communities. As a leftist, I believe that we can appreciate what she did for women around the country without sweeping her more disputable and harmful opinions under the rug. 
Her loss has been felt deeply around the nation, especially considering what's at stake. Despite the fact that days before her death Ginsburg dictated to her granddaughter, "My most fervent wish is that I will not be replaced until a new president is installed," and though the November election is less than two months away, Trump and many senate GOP members including Mitch McConnell have stated they will try to get someone confirmed to fill her seat before November. This has caused backlash and accusations of hypocrisy considering Mitch McConnell blocked Obama from appointing a justice despite having more than two months from the election. Liberal and leftist women across the country have felt shaken and scared of the future while right wingers and Trump supporters have rejoiced for the opportunity to have another justice on the court that is more aligned with their views. 
Only time will tell what changes may occur to women's rights, especially concerning abortion and contraceptive care, in this increasingly polarized nation.