Someone You Should Know: Ayesha Mohamed
There's no denying that the Muslim Student Association (MSA) at Warren is an inspiring community of young people. However, one of them that particularly strikes me as an interesting young lady is Ayesha Mohamed, who is the current president of MSA. I was lucky enough to be able to sit down and have a conversation with Ayesha, and talk about MSA and her role in the club.
I started the interview asking Ayesha to tell us a little bit about MSA, she said: "It is a group dedicated to making a safe space for Muslim Americans and allies at Warren to connect with each other, have discussions on important topics, and most importantly have fun while still remembering God."Ayesha said this about being a female Muslim leader: "I am so happy to have been given the opportunity to be a leader of MSA this year and last year. As a leader it's sometimes difficult to put together meetings that incorporate things everyone wants, or constantly by planning ahead for new meetings, but after working as a team and getting things done it's very rewarding to see the results of our work. When asked about her experience being a Muslim in America, Ayesha had this to say: "I think one thing people don't really realize often is that Muslim American experience can be very difficult. Everyone is at different levels in their faith and when you throw in being children of immigrants as most of us at Warren are, it's sometimes hard to find people you think understand you well.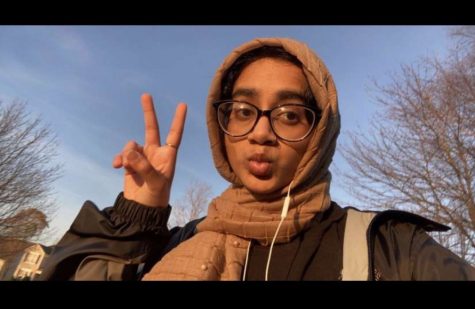 There's also somewhat of a pressure on Muslim Americans to represent their faith well and if they don't it can lead to damaging effects for their entire community. "I asked her if she feels that her culture/religious background is being represented enough, and to that she said: "We actually had a discussion last year about representation especially in the media and how it can be better. Personally I think Islam isn't represented very well in the media or in politics or other spaces. There either is very little representation or the representation we get is based on stereotypes and often misleading. I hope that as my generation grows up we can start challenging those wrong portrayals and actively promoting better representation." As a follow up to that previous question, I asked about what she hopes to see the Warren community do better: "In general I think that Warren always been accommodating to MSA's needs and are always willing to work out any problems and I can't thanks Mrs. Thomas, our supervisor, enough for how helpful she is in making sure we are heard. We've been working on getting the AP Lang book Persepolis taught with more context beforehand, and also trying to get Eid off as a school holiday. Additionally a few of us were also recently talking about having a full-sleeved gym shirt option for Muslim girls who want to follow Islam's dress code without having to layer and be super hot in the gym. I think the Warren community is a pretty diverse one but there's room for improvement."
Ayesha made it very clear what she wants non-Muslims to know about Muslims: "I want non-Muslims to know that Muslims in America are generally very open and willing to talk about themselves and their religion, so that if they ever have any questions about Islam we are glad to answer them, just talk to us or visit a local mosque and engage with its community! MSA is also open for everyone to come to, not just Muslims." I asked Ayesha if she wants to put out a message to young Muslims and future MSA leaders: "I want younger Muslims to know that even if they feel outcast as Muslims in America, that there are a lot of amazing people you can build a community and a support system from whether it's other Muslims or accepting non-Muslims. Just don't be afraid or self-conscious because most people worth getting to know won't look at you any different because of your religion. My main concern with MSA in the future is that I'm worried about making sure everything remains interesting. I am constantly trying to raise our attendance so people feel like they are part of a large community when they come to MSA."
Her hard work doesn't go unnoticed, as the advisor of MSA, Ms. Carolyn Thomas, had this to say about Ayesha: "I find her to be smart, kind, and driven. She has creative ideas and great follow-through. Her leadership has done a lot to propel MSA forward as an organization." Iman Hamdaan, senior at Almond and Vice President of MSA said: "Ayesha is one of my close friends and we have known each other for a long time. I love working with her, it definitely makes MSA more fun."