Super Show 2019 Recap
Astonishing Performances 
Full Send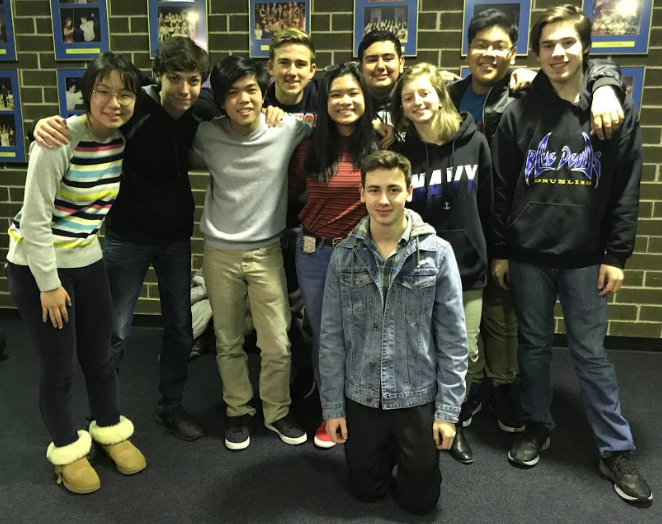 This skilled band consists of Arthur (Art) Canda and Erryn Relayson on Vocals, Sophie Shulman on Guitar, Tony Montesa on Drums, Travis Wallander on Trumpet, Drew Kilcullen on Bari Sax, Adrian Ruiz and Sean E. Rector on Trombone, Jennifer Lee on Piano, and Zach Relova on Bass. 10. It all started with Sean and Jennifer. They were going to audition with an Ariana Grande song as a joke and see if they could get in with a horrible audition. However, when Jennifer listened to Panic! At the Disco, Sean suggested that they should do a cover of "High Hopes." This song was chosen because it is very relevant and popular at the moment, and it incorporated all the elements of their musical instruments with its abundance of brass. The name "Full Send" was created by Travis and Zach. This is the story behind why their name on the large poster is "Sean Rector" rather than "Full Send". When Sean came to play the tape of their audition for Super Show, the supervisors asked him for his name. Sean Rector unwittingly responded with his own name, Sean Rector, rather than the name of the band. Unfortunately, the group wasn't able to change it by the time the giant posters were made. From then on forwards, every single poster advertising Super Show had the name "Sean Rector (Huge Band)" on it!! In order to choose how each person got into the band, Sean Rector chose to include all his friends with expertise in singing or performing on a particular instrument. Many of the band members are from the Warren jazz bands and symphonic bands.
Haley Olsen and Mikayla Johnson
This potent duo brought the audience to tears with their rendition of "Exes" by Mila Cuda and Jessica Romoff. They both love slam poetry because it is a great way to address concepts that many people wouldn't take the time to think about. They want this act to influence the audience to look at relationships from a different perspective. Today, high schoolers, especially younger girls, are mistreated in relationships. These girls wanted to have a voice to speak out about the truths behind rape culture and bring about the awareness of the realities of this sensitive topic. They were looking through multiple poems in order to choose what they wanted to perform, and "Exes" stood out to them as an opportunity to truly connect with the crowd.
Bri and Shyla Dominguez-Barnes
Sisters Bri and Shyla are the President and Vice-president of the American Sign Language Club at WTHS. They created this club in order to spread awareness of deaf culture and sign language because most people are unaware of it. Bri had previously performed on stage in sign language, but she wanted to make her last performance special by performing with her sister. This genuine performance warmed the hearts of the audience and drove many to "listen" with their eyes. This dynamic duo chose to perform "You've Got a Friend in Me" as a way to remind each other that they will always be together no matter where they are on this earth.
Nonchalant
Jeffrey Phillips, Thomas Phillips, and Brianna Rivera performed "Best Part" by Daniel Caesar. It was a peaceful song which contrasts the upbeat disposition of the other performances in Super Show. Their outstanding rendition moved the audience from Thomas and Brianna's marvelous vocals to Jeffrey's proficient playing of the guitar. Brianna started to sing around the age of seven, and she has sung at talent shows and birthday parties in the past. Recently, she has started to compose her own music. Thomas was in the children's choir when he was 8, but today he sings recreationally while his brother plays the guitar. Jeffrey picked up the guitar around the age of twelve, and he has been improving ever since. He has also taken voice lessons in the past. However, he chose to accompany the group with the guitar because it would make the act more authentic.
De La Crew
De La Crew consists of Julia De La Cruz, Janelle Sison, Yugi Salonga, Alee Viola, Victoria Ednilao, and Ethan Reyes. Not all of them were originally dancers, but they all stepped out of their comfort zone to put in the commitment and time. There were many sacrifices that were made such as skipping sports practices or calling in for work in order to practice the routine. They put together the entire dance in under a month and continued to add as much as they could until the day of the show. Julia and Yugi started the group together and recruited Janelle, Randolf, Alee, and Victoria. Yugi had the idea to name the group after Julia's last name, De La Cruz, but with a twist. "De La" means "From the" in English, and they are all "From the" Crew! They chose songs that will take the audience through an emotional roller coaster and electrify their experience. They wanted to bring about their personality through their performance in a way that will make sure the crowd is having as much fun as they are.