The Annual Thanksgiving Turkey Pardon
On Friday, November 19, 2021, President Joe Biden delivered the news that he was going to pardon a pair of turkeys named Peanut Butter and Jelly. Before performing the pardon, President Biden informed Americans of the importance of appreciating and honoring this Thanksgiving because of how far our country has come over the past year. In his speech, he also encouraged citizens to have "a little bit of fun" during the holiday since we all deserve it.
Although this Thanksgiving will be different from last year with more people celebrating the holiday around family and friends, the President decided to continue the tradition of sparing two turkeys.
By now, you're probably wondering how Peanut Butter and Jelly received their names. The answer is that a list of potential names picked by students in Indiana was sent to the White House, where the two turkeys were granted the titles of Peanut Butter and Jelly.
Beginning with finding the appropriate farm that will provide the birds, the National Turkey Federation, for the most part, is in charge of this process. Typically, they start looking for the perfect turkeys that have the finest personality in July. Judged by how well they did under certain circumstances, the federation determined that Peanut Butter and Jelly were, by far, the most impressive at staying calm amid much excitement.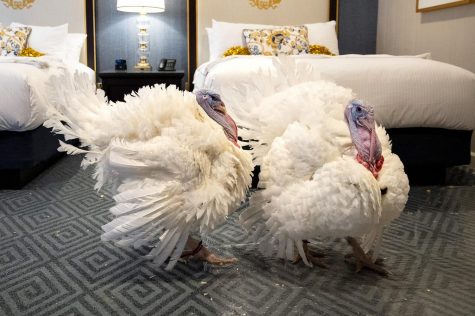 Leaving Jasper, Indiana early in the morning on Wednesday before November 19, Peanut Butter and his partner, Jelly were taken on a long ride in a minivan, called their "mini-barn" until they reached the Willard Hotel. Close enough to their actual destination, the Willard Hotel is acclaimed for its mesmerizing interior and is a common location visited by presidents of the past. To make the room welcoming for the special guests, shavings were laid down on the floor and the turkeys' food and water supply were always made available. Sounds like the room would be messy afterward, doesn't it? However, the National Turkey Federation, which takes extensive care of every turkey pardoned, worked hard to ensure that the suite was even cleaner than when the birds first stepped in.
As soon as they arrived at the White House for the grand reveal, people gathered around the pair and began snapping pictures.
Unlike other years where only one turkey was officially pardoned in front of a camera, President Joe Biden thought it right to pardon both Peanut Butter and Jelly.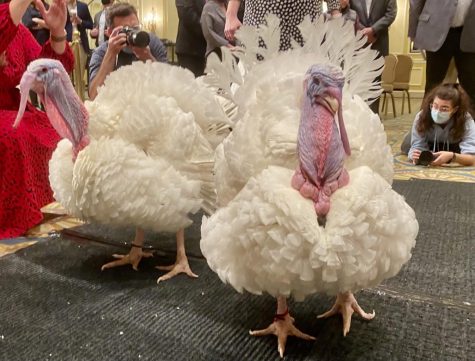 Similar to me, you may be asking yourself what happens after this entire process: do the selected birds live just for this Thanksgiving, or for the remainder of their lives? Fortunately, Peanut Butter and Jelly are expected to go back to their homeland of Indiana and live a peaceful life in the Animal Science Research and Education Center at Purdue University.
Sources:
https://abcnews.go.com/Politics/biden-pardon-turkeys-peanut-butter-jelly-ahead-thanksgiving/story?id=81254568
https://www.washingtonpost.com/politics/biden-turkeys-pardon-thanksgiving/2021/11/19/bcca08b0-4942-11ec-95dc-5f2a96e00fa3_story.html