The Outstanding 7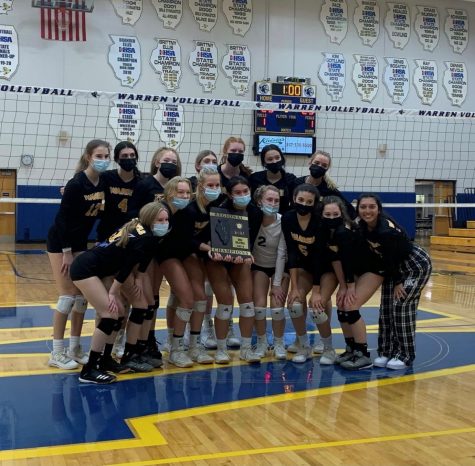 And your 2021 Regional Girls Volleyball Champions are… The Warren Blue Devils. 
 The team's season came to an end after a tough Sectionals loss to Barrington. The Girls Varsity team ended with an outstanding record of 23-15 and placed 3rd in the North Suburban Conference.
The girls who really had to step up this season and lead by example to the rest of the varsity team and the whole volleyball program were the Outstanding 7. This year's 7 seniors included Jada Vaughn, Molly Cummings, Emma Stermitz, Rachel Scanlan, Charlize Ezernack, Kendal Crawford, and Sarah Convey.
The Outstanding 7 were asked to describe, in one word, their experience with the Warren Volleyball Program as a whole through their years of being involved.
Jada Vaughn said "Fun, because ever since I've been here since a freshman, I've just had a bunch of fun meeting new people and making new friends."
Molly Cumming's one word was "Indescribable;" Emma Stermitz said "Entertaining;" Rachel Scanlan expressed "Fulfilling;" and Kendal Crawford said "A Rollercoaster."
Charlize Ezernack said, "One word would be family; ever since I was a freshman it's been a really big deal to always just show up to practices on Saturdays even a lot of team bonding events, I think that's really brought the whole program together and family would be the one thing that I take away from this program."
Lastly, Sarah Convey said, "My one word would be memorable because I will never forget the impact these girls have made in my life and it's just an amazing experience to have."
The Outstanding 7 really expressed how much the Warren Girls Volleyball Program has impacted them through their high school years. The Outstanding 7 really stood up to the challenge this year by helping their team clinch the Regional Title. This year's seniors have truly been role models to the whole program and have left a legacy for next year's rising seniors to carry on.