The Upsurge of FOMO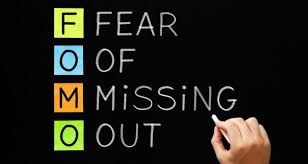 The fear of missing out, also known as FOMO, has been around for a long time. The feeling a person gets when they are left out of activities is definitely one we all can relate to. Despite the long history of FOMO, it seems to be on the rise. In our age of displaying our lives on social media, this idea of being left out is felt every day. All you have to do to experience FOMO is to open up Instagram and look at all the amazing things all your friends are doing. 
Social media is where many millennials and Generation Z show off the highlights of their lives. It is also where everyone else gets to see those highlights and only the highlights. We all post only the best parts of our lives and never expose the more vulnerable parts. This emphasis on the good exacerbates the idea that you are constantly missing out on all the fun other people are having. This feeling is most felt "when people post on vacation or when your friends invite you somewhere and you can't go" stated Meg Rubino, a junior here at Warren. This idea was echo by almost all of the people I spoke to. 
Many people my age feel like they are restricted from many activities for a multitude of different reasons: parents, homework, money, etc. Many sacrifice vital things like sleep in order to hang out with friends and not miss out. This trade-off is a tricky one. No one wants to feel like they are missing out, but there are only 24 hours in a day which forces us to decide what is more important, obligations or fun. The difficulty of this balance was mentioned by Meghan Ramsayer, a senior at Niles West, "I just do so much that I don't have time to just chill. I barely have time to do homework and hang out with friends."
FOMO is also on the up due to the expanding insecurity, particularly in teenagers. According to Business Insider, "People may be more susceptible to FOMO if they are insecure." This is of note because the overall insecurity levels are on the rise as well. In a study in the UK, the overall level of insecurity rose 17% in the past 5 years among those between the ages of 12-18. These two things working together create the perfect storm for feeling left out. Another student, who preferred to stay anonymous, stated: "I always feel like crap when my friends hang out without me, like am I not good enough." This fear of missing out will only continue to rise as insecurity rises, especially in the youth.
It is on us to change the culture surrounding FOMO. We have created the environment for this fear to thrive through social media, overscheduling, and increasing insecurity. To change this fear, we all must take a step back and make sure we are using the limited time we have in the best way possible.
Sources:
https://www.businessinsider.com/why-we-experience-fear-of-missing-out-2018-4
https://www.ncbi.nlm.nih.gov/pmc/articles/PMC4644723/