The Vaccine Rollout – Where do we go from here?
It's officially been a year since the first Covid-19 cases were reported in the United States, and most of us are ready to see any semblance of the "normal" we knew before this pandemic. Of course, the most essential way to get through this pandemic is by getting vaccinated as soon as possible. Since we last reported, (check out our previous article here about Covid-19 and vaccines) many advancements have been made in the vaccine rollout, however much delayed. Following the election and President Biden's inauguration, the new administration is pushing forward to get as many Americans vaccinated as possible. 
On Tuesday, January 26th, President Biden announced that the government will be buying 200 million more vaccine doses, a move to fully inoculate 300 million Americans by the end of the summer. The government is in the process of getting 100 million doses from Pfizer/BioNTech and 100 million from Moderna. This would be in addition to the 400 million doses the companies have already committed to providing for Americans. Tuesday marked the grim milestone of over 100,000,000 cases worldwide, with the United States reporting 25% of them. These numbers are a stark reminder of the reality of the pandemic and the Biden administration is responding with substantial measures during this "wartime" as Biden has called it. Employing the Defense Protection Act, the administration has begun buying more of a "special syringe that can extract more doses per vaccine vial, and it plans to use the wartime law for other raw materials, like lipid nanoparticles and bioreactor bags, if necessary," according to a senior administration official. However, these materials are rare and there is a risk of disrupting the production of other healthcare products and international competition. 
The U.S. Food and Drug Administration began distributing the first supply of Covid-19 vaccines in the U.S. on December 14th, 2020. During the initial period of distribution, Phase 1a, the vaccine was allocated to health care personnel and long term care residents and staff.  Illinois entered Phase 1b on Monday, January 25th after the substantial completion of the first phase. This new phase now includes people aged 65 and older, as well as frontline workers. According to the state, 3.2 million residents fall under Phase 1b. For a more detailed outline of exactly who can get vaccinated in what phase, refer to the chart below.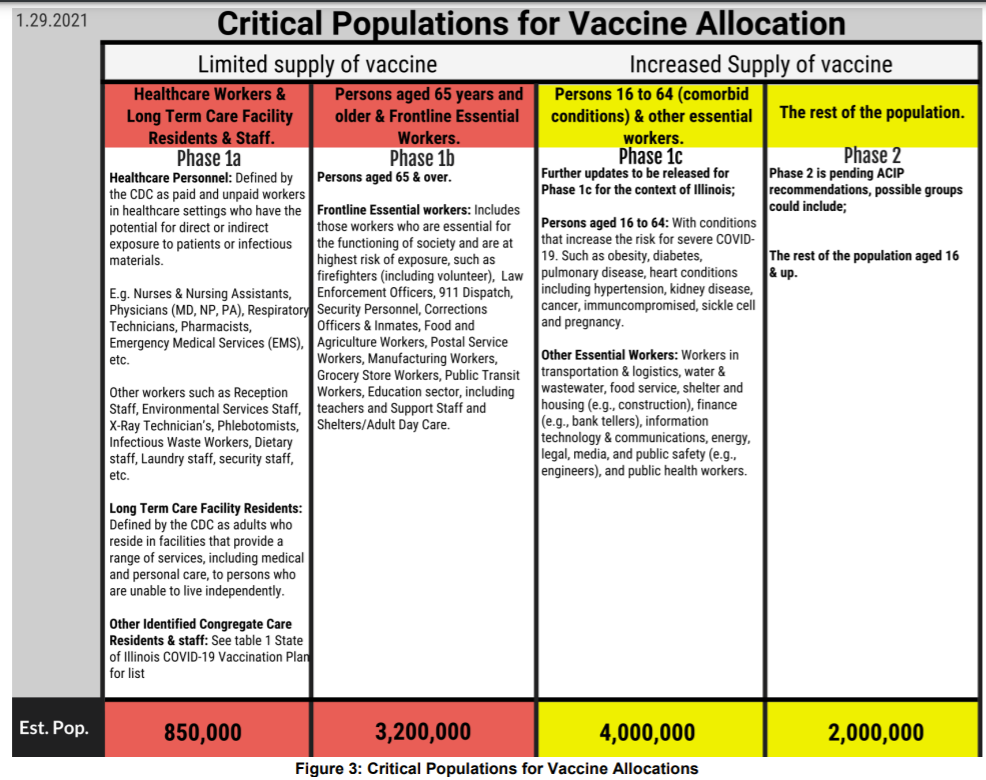 Chicago Department of Public Health Commissioner Dr. Allison Arwady announced potential dates for the remaining phases. According to her, these dates include: 
Phase 1C (essential workers and residents aged 16 and older with underlying health conditions): March 29
Phase 2 (All Chicagoans aged 16 and older): May 31
Dr. Allison Arwady also added "I want to make very clear that date is totally dependent on how many vaccines we get, what changes we may see with the federal government, but broadly, we're thinking Phase 1B, we'll be working through these groups over about two months," Arwady said. "And then opening beyond that, and then looking ahead to Phase 2, which is really when a vaccine is available to all Chicagoans."
Despite these pushes to distribute and administer vaccines as soon as possible, state and local officials have been complaining that they lack the adequate supply of vaccines to fuel the high demand from the public for shots. On Tuesday, New York Mayor Bill de Blasio said on MSNBC that the city has the capacity to administer 500,000 doses a week but hasn't been able to do so because it is waiting on more vaccine supplies from the federal government. Federal officials say that they do not fully understand the reason for these delays but several factors can be attributed. Primarily, states have been holding back doses to be given out to nursing homes and other long-term care facilities. Only 8% of the vaccines designated to these centers have been distributed. 
The demand for vaccines dipped over Christmas and New Year's Day since many people took days off work and clinics also had reduced hours. Another critical factor for the rollout delay, according to public health experts, is that federal officials have left details of the final stage of vaccine distribution (scheduling and staffing) to local health officials and hospitals which are already overburdened by responding to the pandemic. All states are administering vaccines at different rates; for example, West Virginia finished giving the first round of doses to residents and workers at all of the state's 214 long-term care facilities on Wednesday. Operation Warp Speed officials are expecting the rollout rate to increase once pharmacies including Costco, Walmart, and CVS begin to administer vaccines. 
Additionally, an email was sent out to the staff and student body last week that WTHS has now been approved to conduct Covid-19 rapid tests. These tests are available for students or staff members who report or display symptoms while on campus, assuming consent is provided by a parent or guardian. For steps on how to give consent, see here. If the person tests negative, they will be directed to get a PCR Molecular test to confirm the result, or need to get an alternative diagnosis from their doctor. These PCR tests are available at most doctor offices, and for more information refer here. If the test is positive, however, then the person will have to isolate and follow protocol to exit the building and seek medical treatment safely. 
With the new and potentially more contagious variants from the UK, South Africa, and Brazil, it is more important than before to wear double or upgraded masks, socially distance, and wash your hands. If you are an eligible individual to receive a vaccine, as outlined in Phases 1a and 1b, you can find the nearest vaccination site here. Additionally, for more detailed information about the Illinois Covid-19 vaccination plan, please reference here. And finally, for an interactive map of vaccination tracker in each Illinois county, click here.
Sources: