Trident Robotics Wins Seven Rivers Regional!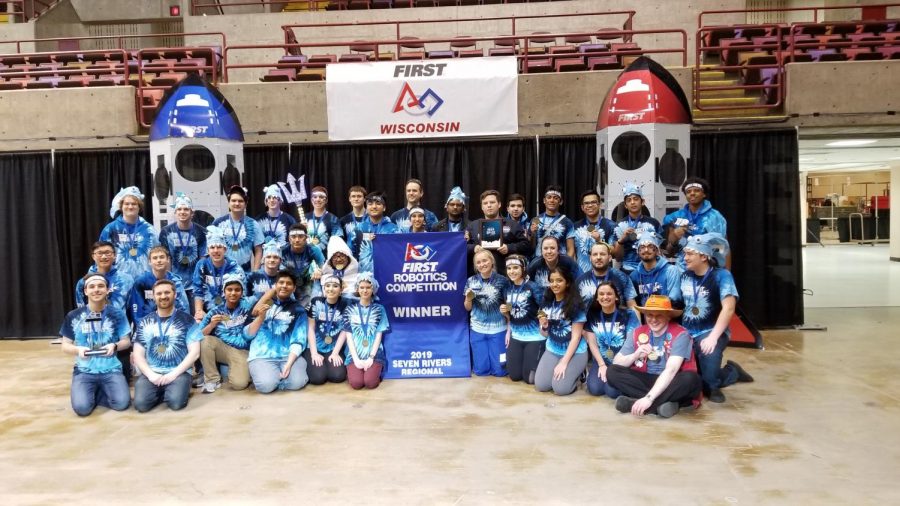 Fifty-five teams. Three spots at Worlds.
The Seven Rivers Regional in La Crosse, Wisconsin promised to be tough competition for Trident Robotics.
The team, including students, mentors, and the robot, drove up to Wisconsin on April 3, ready for three days of matches, bonding, and spirit.
Some students, like Team Lead Janhvi Dubey, stayed in the pits, working on the robot and making fixes before and after matches.
The rest of the team made their impact in the stands. Chants of "forty-two ninety-six" and "Can I get an 'oh yeah?!'" rang out through the La Crosse Center throughout the competition, and Warren students could always be seen dancing in the bleachers.
During qualifiers, Trident Robotics won 5 of their 10 matches. However, their skillful defense meant that they were the second pick of the second seed alliance, joining with Wild Stang (out of Arlington Heights, Illinois) and Wave Robotics (from Oshkosh, Wisconsin) in order to try and beat the other seven alliances.
The team progressed through quarterfinals and semifinals, needing to win two out of three matches in order to disqualify the other alliance and move on. After successfully winning 4 matches, Trident Robotics and their alliance partners reached the finals.
By that time, Trident, Wave, and Wild Stang had congregated in one section of the stands and were trying to make as much noise as possible.
Whether it was the spirit of the three teams combined, or just the skill of the three robots and their respective drivers, the second alliance managed to win both finals matches and secure first place at the Seven Rivers Regional!
As if that wasn't enough of an honor, Trident Robotics also won the Quality Award for their robot, presented by the Motorola Solutions Foundation. This win at the Seven Rivers Regional secured a spot for the team at Worlds in Detroit, Michigan, so the team will be heading up there at the end of the month to compete against 400 other teams from the US and Canada.
Keep an eye out for a more in-depth article about Trident Robotics and their experience at Worlds!