True Crime – The Adams Gang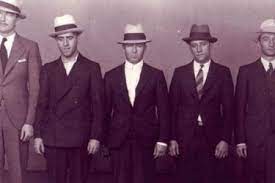 Edward "Eddie" J. Adams was an American robber and spree killer in the United States, who killed seven people, three of those being policemen. He was eventually killed in Witchita, Kansas on November 22, 1921, making him either 33 or 34 when he died.
Born in 1887 as W.J. Wallace, his father died when he was young, and his mother eventually remarried. Adams later began to get involved in petty robberies and car theft. Soon after, he formed a gang that got involved in bank and train robberies in the Midwest. He then, in 1920 Kansas City, Missouri, added the Majors brothers to his gang. On September 5, 1920, there was a shootout at the illegal gambling den they were trying to rob, which led to the first recorded death that Eddie Adams was involved in.
After this failed robbery, the three were arrested. Adams got a life sentence in 1921, but his partners were sentenced to five years. However, Adams would never serve that sentence, as he escaped during transport by jumping off the train. Shortly after, he went back to his life of crime.
On February 11, 1921, he robbed a bank in Cullison, Kansas. He was arrested 6 days later and was sentenced to an additional 10-30 years. He escaped again six months later, with three other inmates. Even though one of the inmates was arrested a few days later, the others continued their life of crime. In September, they robber $10,000 from Kansas banks. This is the first recorded time that Adams directly killed someone, as he pistol-whipped an 82-year-old man who later died of a fractured skull.
October 8, 1921, the police attempted to capture the gang again in Kansas, but the gang got away after a gun battle that left a Detective wounded. Eleven days later, they stole again in Iowa. They were again confronted by officers in Iowa, where there was a shootout that killed at least one, and wounded many. After this encounter, they robbed eleven stores in Kansas, before moving to Wichita, and set their motorcycles on fire. Later on, Adams shot a patrolman in cold blood due to a possible shared love interest.
After this ruthless murder, the Adams Gang committed their most successful robberies from a Santa Fe express train. They then went back to Wichita for their final adventure. After the police had caught up again, they engaged in another car chase. After running out of gas, Adams killed a farmer and stole his car. They escaped once more, but after attempting to rent a car, a police shootout occurred once more, in which Adams was killed.
After Adams was killed, his body was publicly displayed, in which over 9,000 people saw his dead body. Altogether, 18 people were arrested for being Adams' accomplices.
https://www.legendsofamerica.com/20th-eddieadams/
https://en.wikipedia.org/wiki/Edward_J._Adams