Warren FBLA First Semester Recap 2021-2022
Future Business Leaders of America, often shortened to FBL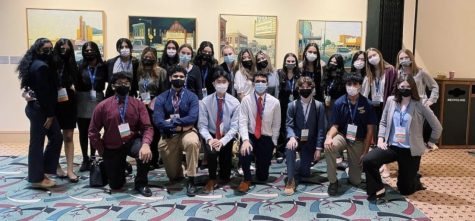 A, is a high school organization that has chapters across the US and in several foreign countries. Its main focuses include volunteering, leadership, and competitions. Competition season lasts from January all the way to Nationals at the beginning of July. Additionally, individual chapters, as well as areas, states, and the organization as a whole, have officers in positions such as president, vice president, secretary, and treasurer. Like most chapters around the country, Warren FBLA has one general meeting each month and, typically, has one monthly meeting for each of its three committees: Partnership With Business, Community Service, and American Enterprise.
For this 2020-2021 school year, the Warren FBLA chapter is led by senior Grace Liu, the chapter president. With the return to in-person learning this past semester, the chapter has been engaging in more ways to recruit new members. Warren FBLA set up its tables at the Activity Fair in September, where new freshmen to explored and learned about the different programs and clubs offered at our school, and at the Eighth Grade Night in December, where prospective freshmen and their families were invited to explore possibilities for academic courses and extracurriculars. Additionally, Warren FBLA was able to recruit several members through selling gym and spiritwear from the school's bookstore during the O'Plaine and Almond Open Houses. As of January 2022, the chapter has recruited 150 members, an increase of 77 members from last year's membership of 123.
On November 19th and 20th, 24 of Warren FBLA's most active members attended the 2021 National Fall Leadership Conference in Milwaukee, Wisconsin, which was the first FBLA in-person conference in nearly two years. The members attended several workshops to explore competitive events, develop leadership skills, learn to set goals, and better communication skills. The conference also included a tour of the Fiserv Forum to give members an opportunity to understand the behind the scenes of businesses within the stadium and they were able to attend a Milwaukee Bucks game for the social event on the 19th.
Throughout the semester, Warren FBLA has participated in many different volunteer and social events. They also had the opportunity to hear from two amazing business professionals. Mrs. Lisa Wolff attended a general meeting and shared her experiences in building her real estate business. Mrs. White attended a Partnership With Business Meeting and spoke about her experience about being the first black woman to own the Vipers Pro Men's basketball team and shared advice regarding how she became a successful businesswoman. Additionally, Warren FBLA partnered with Chipotle to fundraise $188 for the chapter, and the Partnership with Business Committee has decided to partner with the Nothing Bundt Cakes bakery right here in Gurnee. 
Overall, Warren FBLA had a successful semester with its return to in-person instruction,follland it hopes to continue that this semester and following years as well.