Warren Theatre Presents: "The Little Mermaid Jr."
Do you want to take a trip down "Under the Sea" and revisit a Disney classic? Well this is the show for you! Come on down to the on Saturday, April 30th at the O'Plaine Auditorium to experience "The Little Mermaid"'s magical moments all over again.
Following a stellar performance of this year's musical, "All Shook Up", Warren Theatre had a very quick turn around. With basically having just under a month to prepare for this show, the cast and crews have worked effortlessly to create those magical moments. Another difference between this show and the music is that it is only a 45 minute show, compared to the 2 hour and a half show time. 
Well, we all know the classic story of the Little Mermaid, with the pretty Ariel, the dashing Flounder, the curious Scuttle, the merciful King Triton, and the evil Ursula. However, Warren Theatre has put their own Broadway twist to it by allowing each of the major characters to have their own solo.
I was also able to get a chance to talk with Freshman, Makenzie Lazar, who will be playing Ariel, about her thoughts on the role, "Ariel has always been a role model to me, and I'm excited to take on that role, and be a role model for the children in the audience", she stated. The children's show audience is, of course, targeted mainly towards children. It will allow them to get lost in the amazing magic that happens on stage. This is also a great way for some middle school students who are able to picture themselves in that spot the following year. 
All in all, I hope you are able to join us and become "Part of Our World" on April 30th!
A little secret is we will be performing at Live Arts on April 29th if you want to catch a sneak peak of the show!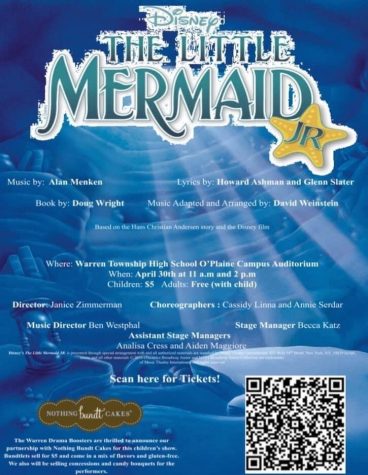 Showtimes and tickets: 
Shows will be held at the O'Plaine Auditorium on April 30th

Shows are at 11 a.m., and 2 p.m.

Any child 12 & under is $5.

One adult can get in free with a child

Adults and youth 13 and older are also $5

WTHS Staff and Students are free

Link for tickets

https://gofan.co/app/school/IL15712

 

There will be an opportunity for photos with Ariel and her friends after the show!