Who is the New AD?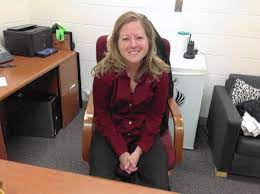 Aimee Lonigro took on the new Athletic Director position after Becky Belmont retired during the 2022 school year. Although it may not seem like a dream job for many, Ms. Lonigro has always had the goal to be an athletic director. Sports have always been extremely prominent in her life with her competing on a Big 10 championship team (Indiana University softball). But her love of sports didn't just stem from her winning a championship and competing at the collegiate level, it started when she was young and played softball and basketball. Ms. Lonigro mentioned that "it did take a long time to realize that I wasn't going to be playing softball and basketball my entire life." 
When asked about her new goals regarding the position, she described her ideal school environment for student athletes. Ms. Lonigro expressed that her number one goal was "to make sure kids have a good experience and want to come back." With Ms. Lonigro playing in college she understands the pressure and the many responsibilities that our student athletes endure on a daily basis. She wants kids to feel "proud and accomplished", along with being "prepared for life after high school." This demonstrates Ms. Lonigro's caring, positive, upbeat attitude which will be very beneficial to our school and its many athletic programs.  
As a past student athlete, Ms. Lonigro hopes that our athletes can "always find one good thing in their teammates, opponents, coaches, and peers." She strives for a very inclusive environment in all levels of Warren's athletic programs by incorporating safety, fun, learning, and teamwork. 
From personal experience from being student athletes at Warren, we believe that Ms. Lonigro will be extremely beneficial to all athletes at Warren. Her personality and experience combine to create a perfect identity for Warren's athletics. We cannot wait to see all of her accomplishments in the future and we look forward to working alongside her throughout the rest of the year.