Who's On The Ballot: The Illinois Election For Senate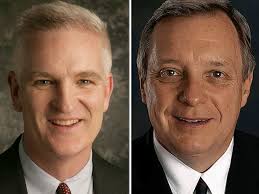 As the election closely approaches its end, voters struggle to pick a candidate for Illinois senator. Five candidates are running this year for the Senate from Illinois: Dick Durbin (incumbent from the Democratic Party), Mark Curran (Republican party), David Black (Green Party), Danny Malouf (Libertarian Party), and Willie Wilson (Willie Wilson Party). The current Senators in office are Dick Durbin and Tammy Duckworth, both a part of the Democratic Party.
Dick Durbin is currently the 47th Senator of Illinois and has been elected into office as a Senator for four concurrent election years. He currently serves as a proud member of four different committees in the Senate: the Judiciary, Appropriations, Agriculture, and Rules Committees. His view on healthcare is that the Affordable Care Act (ACA) should be expanded to provide healthcare to low income individuals and families, and that healthcare is the most important factor of building up an economy. Durbin has made legislation in the past to prevent cigarette use among youth. He believes that the economy should give the most support to the middle class and that the wealthy class along with large corporations, should pay the most taxes. Durbin is also a strong supporter of the Equal Pay Act. Throughout Senator Durbin's time in the Senate, many Coronavirus bills were formed. Some of these bills include: the CARES Act (supporting small businesses and the state of Illinois as a whole), and the Paycheck Protection Program and Health Care Enhancement Act (funding hospitals, testing, and small businesses). 
Mark Curran from the Republican Party is running against Dick Durbin. Mark Curran was the Sheriff of Lake County from 2006 to 2018, the Attorney General's Gang Crime Bureau Chief, and a senior prosecutor. As a sheriff, he formed the Gang Task Force of Lake County. Curran is highly against socialized medicine and has a pro-life stance on the topic of abortion. He strongly opposes illegal immigration and is in favor of securing the United States borders, building up ICE, and supporting the Homeland Security system. Mark does not support tax increases on the upper class and believes that the middle class should be supported most. To finish off, Curran strongly supports the second amendment (right to bear arms). 
Sources: https://www.durbin.senate.gov/about-dick-durbin
https://www.durbin.senate.gov/issues/health-care
https://www.durbin.senate.gov/issues/jobs-and-the-economy
https://www.durbin.senate.gov/issues/coronavirus-covid-19-update