Why You Should Take AP Human Geography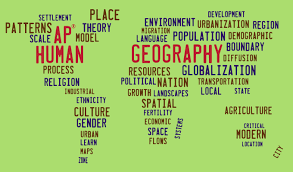 As November rolls around, the time comes for many of the underclassmen to choose their classes for their upcoming years in WTHS. While the task may seem daunting and some students may find themselves stuck between choosing their courses, I recommend that Juniors consider taking the AP Human Geography class offered at the school.
However, as a senior in this course, I do want to say that this is not a class you just want to take for the AP credit. If you are considering this class just because to "boost" your GPA then I would not recommend enrolling.
Why?
Well, the answer is simple: to succeed in a class it is important to enjoy the topics you study. Whether you chose a regular, honors, or AP class it is hard to receive a good grade if you do not enjoy the subject itself.
AP Human Geography or endearingly called AP HUGE, is an engaging class that highlights the how and what affects the earth's geography. It is an innovating course full of diverse chapters that also touches on topics of culture, identity, language, the diffusion of music, etc. This course applies to majors or careers such as business, sociology, economics, and more!
While the workload may seem a little overwhelming, and it is a class that calls for major time management, AP HUGE is something I don't regret taking. The class has a nice balance of note taking to applying ideas in fun activities; never is it just lecture, lecture, lecture for days on end.
Remember your choices are not final! Your schedule and the classes on it should reflect what you want to take or study in the future. Enjoy your senior year with enriching and challenging courses that help you grow in your academic career.
(If you would like more information or have any questions about the course please email [email protected])