XC Dawson Invite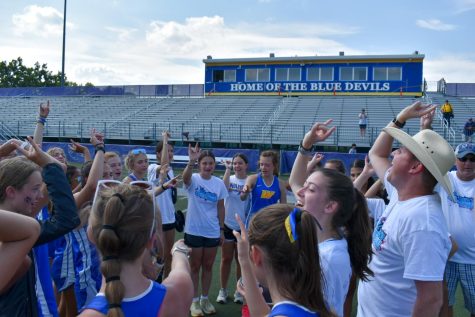 A couple of Saturdays ago, the Warren Cross Country teams ran their home course at the O'plaine campus against 24 other teams. Many spectators came to cheer the teams on, food trucks with snow cones, chips, and other snacks were called over, and the team tents were set up on the field. This was a tough day, with the weather reaching the 80's, yet both varsity teams and all of the girls teams scored in the top five, starting off with the Frosh/Soph races at 9:00 am.
 Joselyn Schenk scored fourth for the women's race, hitting a lifetime PR(we call personal record's PR's) of 20: 54 and just beating the next runner by ten seconds. Justyce Seiber ran hard closely behind and secured tenth place, while Savannah Swietlik, Karina Tondeva, and Shelby Steggerda scored for the team with personal records of their own! (Shelby beat her previous time by a staggering three minutes!!!) Warren Girls XC secured second place in the Frosh/Soph race. As for the guys, Andru Koehl led the team with 18:40, and Josh Duray one second after at 18:41, both hitting PR's. Ivan Garcia-Nieto, Lucas Jablonski, and Ethan Ball additionally scored for the team with exceptional times. The boys worked hard and left their coaches proud. The whole team is pumped for what they can accomplish in the following races! 
The varsity races were CRAZY! Mia Pasha scored second overall, Kate Mondejar 28th with her PR, and Kylie Florance, Grace Wiser, and Morgan Vawter reached personal records on top of that too. The girls proudly secured second place overall and walked off of the track feeling great! The Men's race was just as exciting! Caleb Levy ran his first ever high school cross country meet and obviously PR'ed at 16:24 and at 12th place. He is optimal for the future now that he is back into running after a long time due. Fahim Rafi ran great for 24th place, Cole Kaether right after him, and closely followed by Ryan Moats and Henry Lester. Boys Varsity got fifth place- imagine what they can do once conference rolls by! 
Finally, the junior varsity races ran. Emotions were high and everyone was cheering hard for the teams. Girls ran first again and had some amazing highlights. Emma Leung scored second place overall, Ellinor Hanner 6th, Caralyn Whalen 8th, and Dara Santin-Zendejas 21st. Kassandra Rodriguez finished fifth for the team and was a huge part in Warren's overall 3rd place in the JV race. Similarly, they guy's team additionally brought forth some amazing efforts. Jakob Biondo Ran first for Warren and 17th overall. Luke Etienne ran next just five places, and behind,Trey LeBeau, Kyle Newton, and Mohammad Samhan followed. The guys scored seventh out of the 25 teams present at the invitational. 
Great job to Warren's cross country teams, not only for the Bill Dawson Invitational, but for all of the efforts they put into running this season. I wish you the best of luck in future races and conferences. Remember to stretch, drink outrageous amounts of water, keep a positive mindset, and run for the pasta! Keep your head up Blue Devils! Go show those other teams what we're made of!