Powderpuff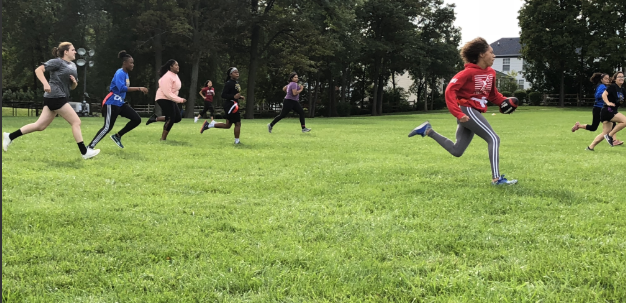 The girls junior and senior powderpuff team has a lot on their hands this season. For the past three years, the senior girls have taken the win, beating all the teams that they have faced. This year, the senior girls plan on taking their final victory in defeating the juniors for second time in a row while at the same time making history by winning all four years straight.
Jatia Harris, a wide receiver for the senior team states that, "we have valuable players such as Caitlin who is the quarterback, Janii Jenkins and Anyia Anderson as running backs", also remarking on their offensive team's great speed. Harris points out how the girls "need to work more on defense mostly. We definitely need to do more drills to get our defense better. We also need to know what to run in-between plays because we spend too much time in the huddle."
The senior girls' strategy lies in beating the juniors by scoring on offense and shutting down their good players on offense. Harris believes "all we have to do is continue playing as a team like we've been doing in the prior years in order to get this 4-0 victory."
The junior girls' Powderpuff team has been practicing often in order to defeat the seniors. It was even rumored that the junior team was getting four days of practice time instead of two like the rest of the teams. Even if the rumor has any substance, the senior girls are paying no attention, simply expecting the junior girls to bring it.
The junior team lost to this senior group as freshmen, though they went on to beat the freshmen and sophomores. Can the juniors get revenge on the seniors this time around?
Three juniors to be on the lookout for are: Jesseste Ezernack (wide receiver), Lily Wiitkowski (fullback), and Trenise Powers(offense). Powers seems to think highly of their chances at winning, as she confidently states, "just let the seniors know they don't know what the juniors got planned." Powers feels absolutely no fear in her heart – and neither does her team.
Though Powers never answered whether the juniors truly have been practicing multiple times a week, she wants the seniors to know that "we've been ready since day one."
Will the seniors be able to to complete a perfect 4-0 and become the first in Warren's Powderpuff history to be undefeated?
Or, as Powers believes, will the seniors get the long desired payback that's been brewing in the junior's hearts since they lost to the seniors as freshmen?
You'll have to go to the Powderpuff game on October 3rd at 7:30 pm at the O'Plaine campus to find out!
Hang on for a minute...we're trying to find some more stories you might like.