A Midsummer Night's Dream Review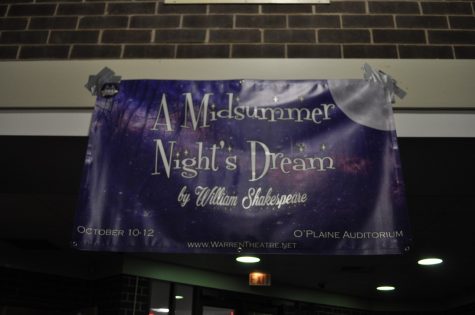 This year's fall play was "A Midsummer's Night Dream," and watching it truly felt like a dream. The play, written by William Shakespeare, centers around four main characters: Lysander, Hermia, Helena, and Demetrius. Lysander and Hermia are deeply in love while Helena is desperately trying to win Demetrius' love, though he favors Hermia. Lysander and Hermia are prohibited from getting married by the Duke of Athens, so they run off into the woods together, but Demetrius and Helena follow them. While in the woods, a strange mix-up involving a well-intentioned fairy causes Demetrius and Lysander to fall in love with Helena, leaving Hermia alone. There was also a play-within-a-play as a hilarious side plot, an entertaining conflict between the king and queen of fairies, and many other important characters and crew members that made the play run so smoothly. The school's version stayed true to the Shakespeare script but was set in the winter during the '70s.
I sat down with Mr. Miller, the play's director, to discuss the preparation for the play and his final thoughts on the performance. He told me that as his love for Shakespeare grew through his own high school's plays he realized Shakespeare's works were not as daunting as they seemed at first glance. He developed a love for his works and now wants students here to feel the same way. He wants to achieve this by connecting Shakespeare's story to something more modern. Since the '70s were about rebellion and free expression, he felt Hermia's rebelling against the law that won't let her marry who she loves was something he could easily tie together with a 70's twist. He specifically set it during winter out of appreciation for the song "Mery Xmas (War is Over)" by John Lennon. 
The set was gorgeous, with the spectacularly lit tree on the right side of the stage attracting most of my attention. The costumes, full of 70's peace and love propaganda, fit right into the set and was a great homage to that era. I also want to acknowledge how well the makeup artists did; the looks of the ensemble of fairies took my breath away in particular.
All the actors did amazing and the four leads especially did wonderful and seemed really confident in themselves, for good reason. They were very expressive and even if you were a little confused with the scene at first, they made it clear what was happening and how they were feeling with their facial expressions and passionate tones. They showed scenarios and emotions that are easy to relate to such as jealousy of a friend, being hopelessly in love, being prevented from loving someone, etc.
Mr. Miller heavily praised the students' maturity as they stepped up while he had to take a while off for paternity leave. The kids had rehearsal five days a week and you could easily see how much work the students in the play and the ones behind the scenes put in. It was comedic and lively with a very satisfying ending. 
Come out and support Warren Theatre in the near future by attending the Clue Dinner Theatre from October 24-26th!