Council For Exceptional Children (CEC)
There are 4200 students in Warren Township High School. Around 13% of high school students in the United States are enrolled in a Special Educational program, and there aren't many opportunities for them to interact with other students, even if they attend the same school. However, the Council for Exceptional Children(CEC) is a nationwide social club with chapters in various high schools, now including Warren! This club meets once a month, typically in the Almond Cafeteria, and allows students both with and without disabilities to understand the personality of other members. Through community and school events, CEC promotes the value of individual differences and inclusion of all.      
One of this season's meetings involved board games and puzzles such as Apples to Apples, Monopoly, Sorry, and so much more! Other activities included a Frankenstein-themed Halloween game and eating Halloween-themed Rice Krispie Treats. There was an abundance of chocolate, marshmallows, and fun. I truly got into the Halloween spirit through these spooky activities. 
Beyond the games and the food,  CEC is an impactful way to interact with the fellow students, enjoying, laughing, and working together. Sometimes you need a break from the stressful realities of school- this club allows for exactly that, while enjoying yourself and making new friends. CEC is all about appreciating fond moments of life with warm-hearted people by your side.
Unfortunately, not many students are aware that this club exists! It is crucial to look for posters around the school with events under CEC if you have an interest in joining. This club offers every student the chance to understand the talents, abilities, and personality of the exceptionally diverse array of students at Warren. No other club in the school offers this kind of opportunity. 
If you are interested in attending this club or obtaining more information about it, please contact the CEC supervisor, Mrs. Vandervort, at the following email: [email protected] 
We are always accepting new members- the more the merrier!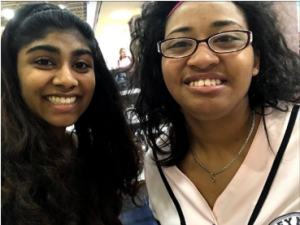 Having fun at the Frankenstein Frenzy with Janiah Haynes