D121 Retiring Staff: Ms. Laura Oeffling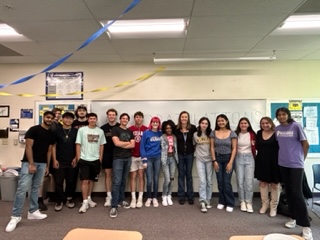 At the end of each school year we take time to celebrate the retiring members of the D121 community. For this Scratch Paper article we are highlighting the dedication of Ms. Laura Oeffling! 
Ms.Oeffling has taught Math at the secondary level for 33 years. She started her career teaching at Waukegan High School, for 7 years. After this she was hired at the O'plaine Campus to teach math to our district's freshman and sophomore students. She worked at the O'plaine campus for 4 years. The remainder of her time at Warren has been spent at the Almond Campus. For almost 22 years, the seniors and juniors have had the opportunity to learn and grow from an amazing teacher like Ms. Oeffling.
If you want to see the immense impact Laura Oeffling had on our community, you need look no farther than the back wall of her classroom, where she proudly displays the lengthy lists of students she taught who got a 5 on the AP Calc Exams. The number of students she helped receive college credit for a difficult course such as Calculus is outstanding; but where she made the biggest impact was not always in an area visible to the eye but clear in our hearts. Ms. Oeffling has left the biggest impression on the hearts of the Warren Community. She is a friend to many teachers and administrators, but an even bigger support to her students. 
I had the pleasure of being one of Ms. Oeffling's students this year and I can attest to her kind and friendly nature. Each day in class, Ms. Oeffling made a point to check in with every student about life. She was always excited to learn more about our interests, hobbies, jobs, or goals. It is quite common for teachers to form connections with a couple students, but Ms. Oeffling strived to learn more about all her students. She formed bonds with every student in class, which is truly what made our class such a great community. 
When asked what her favorite thing about Warren was, Ms. Oeffling expressed a great love of her students. She admires how engaged Warren students are and has loved their drive to learn. The importance of the students to Ms. Oeffling is evident in her style of teaching. While she teaches two AP college level courses, she has always strived to make information and help available to the students (a teaching philosophy not as common at the college level). This philosophy of teaching is one that has successfully helped students navigate through rigorous coursework. The step by step navigation through difficult coursework and the progression of knowledge is Ms. Oeffling's favorite thing about teaching. She loves seeing the journey students make from the beginning of the year to the end of the year.
While her time here at Warren was treasured, her retirement is well deserved. Ms.Oeffling is excited to finally relax during retirement. She plans to spend a lot more time with her family and just enjoy a slower pace of life. 
Ms. Laura Oeffling has made such an immense impact on not just the students, or her colleagues, but the entire D121 community. She will be dearly missed during her retirement. 
Thank you for all you did for our community Ms.Oeffling!