Presidential Corruption In South Korea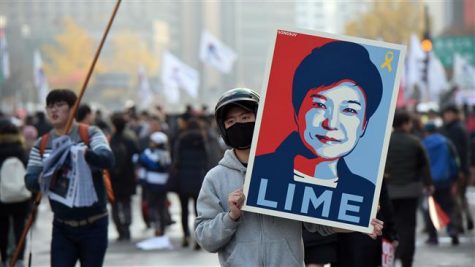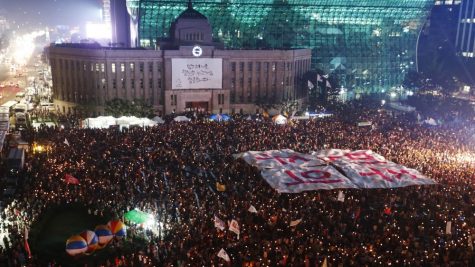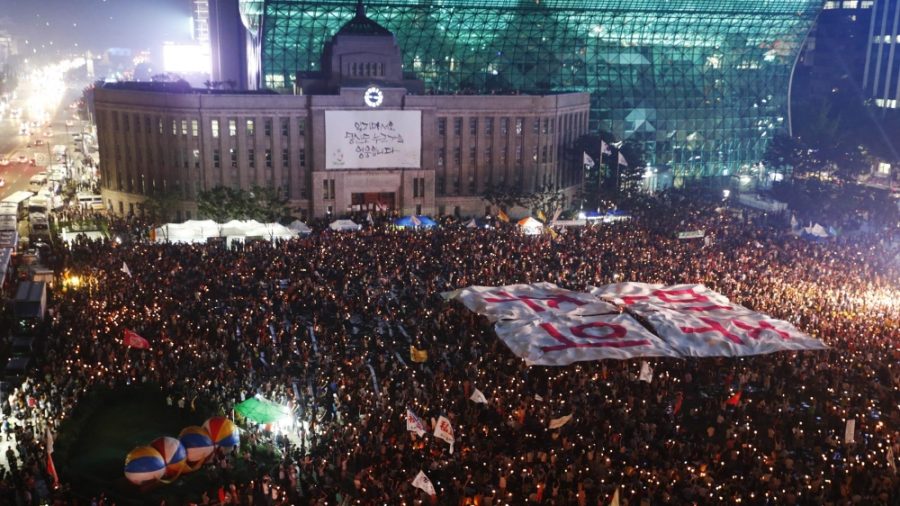 Two million standing in protest in late November, 2016
President Park Geun Hye (65) of South Korea has been embroiled in a massive political scandal revolving around the controversial relationship with her long-time friend and confidante, Choi Soon Sil, daughter of religious cult leader Choi Tae Min.
Background: The Choi family has been close to Park since the 1970s after the murder of her mother by a North Korean assassin while her father, dictator Park Chung Hee, was president. Choi Tae Min became Park's mentor following her father's death. From then on, the Chois have possessed an immense amount of influence over Park for essentially most of her adult life, sparking accusations of Park being a puppet-figure controlled by the family.
The Reveal: Near the end of October, 2016, multiple news media reported that Choi Soon Sil, who holds no government position, had been given access to classified documents, intervened in state affairs, leaked information jeopardizing national security, and extorted around 60 million U.S dollars from chaebols (big business conglomerates that are family-owned) to fund her own two non-profit organizations that support the president. She also siphoned money out of federal funds for personal use, and had even written Park's public speeches before her presidential election in 2012 and throughout all of Park's presidency, which was admitted by Park who stated that she turned to her friend for advice several times and allowed her to look at some things but did not specify as to what. In addition, Choi had forced a prestigious Korean university to change their regulations and admit her daughter to the school, as well as give her perfect grades without the need to actually attend classes. Now, Choi has been taken into custody on multiple charges of abuse of power, coercion, attempted coercion, and attempted fraud, effectively dragging Park down with her because of their close ties.
Investigation and Arrests:
Main presidential aides Ahn Jong-beom (former senior secretary), Jeong Ho-sung, and former chief of staff, Kim Ki-Choon were arrested for abusing of authority, embezzlement and helping Choi, and have said that Park worked with them for certain criminal offenses.
Cho Yoon-Sun, Minister of Culture, was arrested on suspicion for making a blacklist of writers, artists, and entertainers that criticized Park
Parliamentary hearing of December 6, 2016: The Federation of Korean Industries comprised of Samsung Electronics Vice Chair Lee Jae-yong, Hyundai Motor Chair Chung Mong-koo, Lotte Group Chair Shin Dong-bin, SK Group Chair Chey Tae-won and the heads of CJ, LG, Hanwha and Hanjin, were all in attendance to testify that by contributing money (bribery) to Choi's foundations and Park, they were not looking for political favors.
Among all these arrests, it is interesting that the same court issuing them refuses to grant a warrant for the head of Samsung group who is under fire for bribery, embezzlement, and perjury in support of Choi and Park who had helped the business go through with a controversial merger of two of its affiliates in 2015.
Where Things Stand: As of February 6, 2017, Park has denied all charges against her in the National Assembly's impeachment notion during the first trial of the Constitutional Court hearing. While she had originally agreed to let the nation's special team of prosecutors conduct a search and launch an official investigation, her aides have now rejected their search requests for Park's presidential compound, citing a law that blocks out areas holding official secrets. The Court is now in deliberation of whether to formally unseat her and spur an election to choose her successor, which would need to happen within sixty days of the announcement. Until then, Prime Minister Hwang Kyo-ahn is the acting president.