Eid al-Adha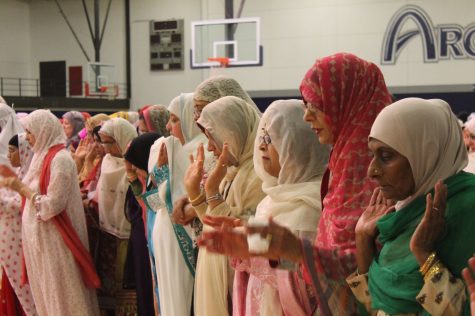 Taken by Neshmia Malik
Muslim women offering Eid Al-Adha prayers at the Libertyville Sports Complex
The Islamic holiday, Eid Al-Adha, is celebrated by over one billion Muslims worldwide from the evening of September 11th to September 13th. Eid Al-Adha, meaning "The Festival of Sacrifice" or "Sacrifice Feast", celebrates the Quranic story of Ibrahim (Abraham) and his son Ismail (Ishmael). Eid Al-Adha also marks the completion of Hajj, a yearly Islamic pilgrimage to Mecca.
The Quranic story tells that Ibrahim had a dream, which he interpreted as a divine command from God that told him to sacrifice his son. Ibrahim, however, did not actually sacrifice his son. Instead, God replaced his son with a ram before the sacrifice. This event shows the submission to God and gives significance to the value of self-sacrifice for faith. So every year on Eid Al-Adha, many Muslims practice Qurbani, the act of sacrificing a livestock animal, such as a goat, cow, sheep or camel, in remembrance of God's test to Ibrahim.
A plentiful amount of the meat that is sacrificed on Eid Al-Adha is shared with other families and charity. Many Muslims follow the guidelines that one-third of the meat is donated to family, one-third is donated to friends, and one-third is donated to the poor and needy. Senior, Sana Barkat, shared her experience on sacrificing an animal for Eid-Al-Adha, "You sacrifice a sheep or a goat…sometimes your relatives will sacrifice the animal and give you the meat."Another senior, Safia Tayyabi, commented on Qurbani, "Sometimes your family sacrifices [the animal]  for you somewhere else, like in Pakistan, and they donate the meat to charity." This is because there may be a higher poverty rate overseas countries than in the United States. The animals must be healthy, free from any disabilities, and older than age.
In addition to a Muslims' five daily prayers, Eid-Al-Adha has specific prayers for this holiday. Islamic Foundation North, a local mosque, held Eid Al-Adha prayers at the Libertyville Sports Complex on Monday, September 12th. Many Warren students were excused from school on Monday in order to attend the gathering to celebrate the holiday. Muslims usually dress in clothing from their culture. They share food, attend gatherings of Muslim friends and family, and generally enjoy each other's company.