True Crime – The Dating Game Killer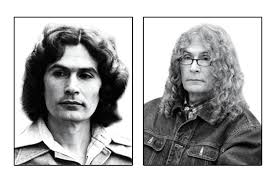 Born Rodrigo Jacques Alcala-Buquor, August 23, 1943 in San Antonio, Texas, Rodney Alcala had a tough childhood. He moved to Mexico when he was 8 years old, where his father abandoned him, causing his family to relocate back to the States, more specifically Los Angeles. At 17, he enlisted in the military, only to be discharged in 1964, after suffering a breakdown and being diagnosed with Anti-Social Personality Disorder. He graduated with a UCLA fine arts degree in 1968. 
Alcala committed his first crime on September 25, 1969, when he lured an 8-year-old girl named Tali Shapiro back to his apartment in Hollywood, where he raped and beat her. By the time the police had found her, he had fled. In order to evade the police, he donned the name "John Berger" to enroll in NYU. In June 1971, Cornelia Michael Crilley, a 23-year-old flight attendant was found raped and strangled in her Manhattan apartment. Her case was solved in 2011.
He was added to the FBI's Most Wanted in 1971, and it would eventually be two children who were responsible for his arrest. Because Shapiro's family refused to let her testify, he was only sentenced to three years for child molestation, and would only serve 17 months before being paroled. Less than two months later, he molested a 13-year-old girl, and was put back in jail for 2 years.
After his second release, he was then allowed to travel to New York, where he promptly killed Ellen Jane Hoover, a 23-year old daughter of a popular nightclub owner, and her remains were found buried on the grounds of the Rockefeller Estate. He briefly wired for the Los Angeles Times, where he was accused of being the Hillside Strangler. He was found innocent, but arrested for marijuana possession.
He also would pose as a professional photographer in order to take pictures of hundreds of people, many of which he would take nudes of. He sexually assaulted at least one of them, and police have stated their worries that some of the photographs might be of other victims.
After this, he won a show called the "Dating Game", which caused his moniker to become the "Dating Game Killer", although the women refused to go out with him. This would cause him to kill at least three women.
He then killed Robin Samoe, a 12-year-old, and left her decomposing body in the Los Angeles foothills. He was then tried, convicted, and then sentenced to death, but due to their knowledge of his previous crimes, this was overturned. After matching DNA, it was found he killed at least 4 other women. For his third trial, he acted as his own attorney, in which he used voices to separate himself as both the defendant and the attorney. He was sentenced to death and marked as guilty for all five murders. Tali Shapiro, his first victim, all was a witness for this trial. He could have killed anywhere from 50-230 people, making him one of the most prolific serial killers. He died July 24, 2021 of natural causes.
https://en.wikipedia.org/wiki/List_of_serial_killers_in_the_United_States
https://www.biography.com/crime-figure/rodney-alcala