What's in a Commencement Speech?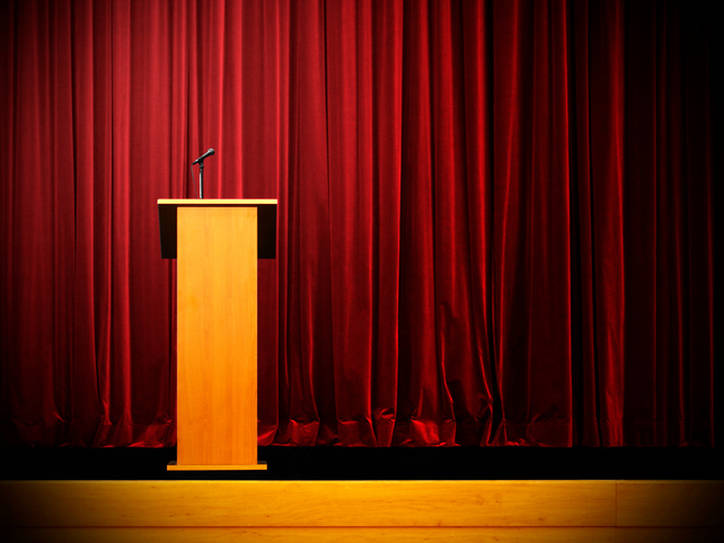 "Beware the Ides of March."  Or so says the soothsayer in Shakespeare's Julius Caesar.  Well, the national phenomenon of men's college basketball tournament, March Madness, begins March 15th for first-round games.  Since ides references a day falling between the 13th-15th in Roman culture, when the Ides of March start on March 13th, we only have ten days until spring break.  Thankfully for Warren students, mid-March isn't as foreboding as it was for Roman emperors.
Also happening in the middle of March will be students presenting their commencement speeches in front of the Screening Committee.  The Screening Committee consists of school administrators, including Dr. Kirk (Associate Principal at Almond) and Mr. Parrott (Almond Principal), who evaluate students' presentations and speeches.  Dr. Kirk and Mr. Parrott kindly allowed me to lob them some questions recently over the commencement speaker/speech selection process, and I'd like to share my findings.
To begin, the Screening Committee will reach out to candidates to set up convenient times for them to rehearse their speech, which includes students' free periods, lunches, or before or after school.  Naturally, students will read their speech in front of the committee who will settle on "a couple" speeches once all is said and done.  Last year during graduation, three speakers were chosen; however, the reason behind this was that it was the one-hundredth graduating class of WTHS, so a third speaker was selected to celebrate this occasion.  For this year, the committee decided on two speeches to be performed at graduation.  While "more girls apply than [do] boys," the speaker selections will "not necessarily" be one boy and one girl.  On the topic of candidates, typically fifteen to eighteen speeches are submitted any given year.
When asked whether there were any prerequisites such as grade point average or classload to be considered, Dr. Kirk and Mr. Parrott were pleased to inform me that no prerequisites of the type were reviewed.  The only outside information requested in the application was previous school disciplinary actions.
Previously at Warren, the two speakers who gave speeches at graduation were the valedictorian and salutatorian, who typically sported the highest GPA and second-highest GPA, respectively.  The administration chose to modify this process after it realized that some people who were stellar students preferred not to speak in front of their peers.  Upon this consideration, the Screening Committee sought students who genuinely wanted to speak.  Now at Warren, instead of being perceived as an obligation to some, commencement speeches are a coveted reward.
Ultimately, Dr. Kirk and Mr. Parrott stressed that the committee searches for someone with a "presence at the podium" and a student who can "tell a story that is entertaining, meaningful, and with a purpose."  Other advice to applicants from the administration was to strike a balance in their speeches between being both relateable meanwhile being distinctive as well.  At its core, Mr. Parrott appeared enthused to find a speech that represents Warren well and is inclusive in its message.  Mr. Parrott responded with the advice to craft a "we speech" opposed to an "I speech" when prompted on the topic of inclusivity.  He embraced sentences that resembled "this is what the student body did at the football game" in contrast to ones that focused only on a person's close-knit group of friends.
Wrapping up the conversation, Dr. Kirk indicated that she was eager to see a student "find a solid message that he/she can weave through [the speech]."  In accord with her mindset, Mr. Parrott hoped for a student to be strong in "telling a story, a good story that the class of 2018 has experience [with]."
From my chair, I left the interview with delighted with the transparency, inclusivity, and focus of those who are on the screening committee.  I wish the bold applicants who yearn to speak at graduation the best of luck, and my last piece of information is that it appears that decisions will be out sometime shortly before or after spring break.  I, for one, am excited to hear my classmates and their experiences come May 20th!