Warren Township's Paralympian Swimmer
Think of a time when you went to the beach or the pool. You jump in the water and feel it absorb all around you. You begin to swim moving your arms forward and flutter kicking your legs. But what if you had one leg that was shorter than the other? Or what if you had no leg at all? Would you still be able to enjoy your favorite sport? I had an interview with a girl who says you absolutely can!
Keegan Knott is a paralympic swimmer who goes to WTHS. She participated in the Paralympics Games 2020 in Tokyo with Team USA. I had an exclusive interview with Knott to get the low down on her life and her experience as a teenage paralympic swimmer. 
Ever since she was little, she loved the water, and since every other out-of-water sport was way harder and required a lot of accommodations for her, she decided to start swimming competitively. She said it was perfect because "when I'm in the water I'm pretty much the same as everyone else, it's not a big difference and I feel much freer."
Knott was born with a limb deficiency, leaving her with one leg shorter than the other, without multiple muscles and ligaments in her ankle, without a fibula, and a hip joint. She has been competitively swimming since she was 7 years old and trains 6 days a week, twice a day sometimes, with her club team in Pleasant Prairie, Wisconsin at the RecPlex. 
Having a disability hasn't affected her life that much, she tells me, but other than that, she lives normally like everyone else. "I'm a teenager, I go to high-school, my parents give me chores, I'm really just a normal person with a disability."
It wasn't long before Knott got noticed by the national teams. Her first international competition with Team USA was in the Parapan Games in Peru in 2019, the summer before her freshman year.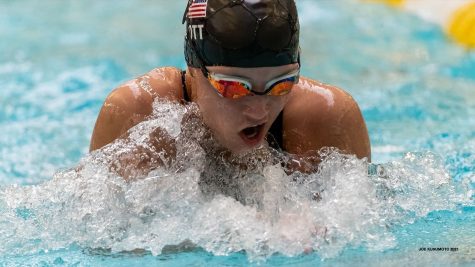 She didn't just get a free pass on the team. She had to make qualifying swim times for the national camp, the national team swim meet, and from there she met all the requirements and was qualified to compete on the national team.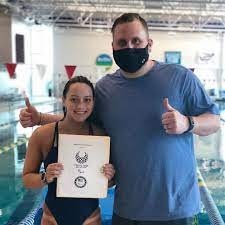 Her favorite stroke is freestyle long distance, which she competed in for the 400-meter freestyle in the 2018 U.S. Paralympics Swimming Para-National Championships and placed 3rd. It wasn't as high as she would said she hoped, but was "just an amazing experience to be there and compete with so many talented people."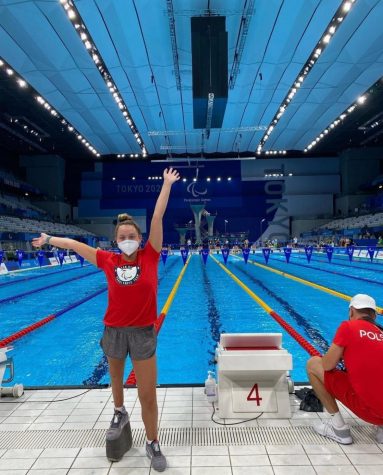 Being a Junior in high-school and being on Team USA has been challenging for Knott. She recalled the biggest challenge was "coming back from two weeks in Tokyo and having to deal with missing work and then back with normal school, it was a change that I had to face and get through." 
She also recalled what practicing with Team USA looks like. "We do everything together. We train together, and we each have our own type of workout given to us by our home coaches. There are also our team coaches there to help us with anything we need."
With having a disability, Knott has faced challenges within herself that has made her want to stop swimming. For a while when she was younger, she had this problem where she would always think "Am I going to be as fast as everyone else?" and doubted her capabilities. 
Despite those hardships, she has overcome all her challenges and says "it's really not a big deal or problem for me anymore, because yes I'm disabled, but I can do the same things and more like everyone else. It's definitely something I would never stop doing."  
She can't imagine swimming without her limb deficiency. " I know that I definitely wouldn't want to be able-bodied. I have gotten so many experiences from being disabled and I'm grateful I got to experience that." She plans on making competitive swimming her career and wants to go to college for physical therapy.
She hopes to make it to the Paris Olympics and LA to compete with Team USA again and see where it goes from there.